DRAWN & QUARTERED
Diversity in comics no laughing matter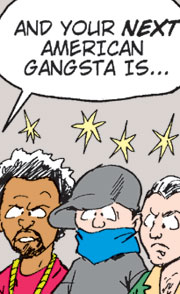 The Star-Bulletin's Sunday comics section includes the work of three African-American cartoonists: Darrin Bell, Steve Watkins and Nate Creekmore -- well, technically, 2 1/2, as Creekmore is biracial, but he does address black issues in his strip "Maintaining."
Still, it's a meaningful number, reflective of Hawaii's diversity of ethnic and cultural lives, and such is not the case among other newspapers around the country.
So, in the tradition of civil-rights protests, a group of black cartoonists -- including Bell in "Candorville" and Watkins in "Housebroken" -- are addressing that topic in their strips today.
Called the "Cartoonists of Color Sit-In," the action aims to gain all minority cartoonists a fair chance to have their work seen in newspapers.