50TH ANNUAL GRAMMY AWARDS
A good Bette
Midler's Christmas album might have lacked a Hawaiian touch if not for two isle musicians
A win tonight for Bette Midler's 2006 Christmas album, "Cool Yule," will give two other island musicians, Johnson Enos and Aaron Sala, bragging rights for their part on a Grammy Award-winning album.
50th Annual Grammy Awards
When: 7 p.m. Sunday on KGMB/CBS

Note: The Grammy Award for Best Hawaiian Music Album is one of many presented before the televised broadcast at the Staples Center in Los Angeles. This year the "pre-show" awards will be carried as a Webcast live at www.grammy.com at 11 a.m.
"Cool Yule" is a finalist in the Best Traditional Pop Vocal Album, along with albums by Michael Bubl, Queen Latifah, Barbra Streisand and James Taylor.
Midler, born in New Jersey but raised in Hawaii, thought it would be cool to do R. Alex Anderson's hapa-haole Christmas classic, "Mele Kalikimaka," on "Cool Yule," and she wanted the Hawaiian elements to be handled correctly. Generic studio personnel wouldn't do. So she contacted Enos and he called Sala.
Sala, a 2006 Na Hoku Hano Hano Award winner, didn't get to meet Midler; everything he did was sent to her as music files, but he describes the opportunity to work on the album as "a huge deal."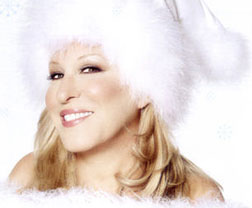 "Participating not only as a vocalist, but also as an arranger for an album for such a superstar recording artist as Bette Midler is a huge deal for me as a Hawaiian (and) a Hawaii-based musician. The fact that my name is on such an album is an honor."
"The track was going to be cut from the album, and Johnson Enos and I were brought in to try to salvage it because Bette Midler loved the song so much, but the original arrangement lacked a 'Hawaiian feeling.' To be partly responsible for the success of a track on such an album, then, is even more honoring."
Hapa-haole hit sung with respect and style

"Cool Yule"
Bette Midler
(Columbia)
Midler's album is of interest to fans of classic hapa-haole music because it includes a new version of "Mele Kalikimaka," the late R. Alex Anderson's composition that is -- thanks to Bing Crosby's recording more than 60 years ago -- the best known "Hawaiian" Christmas song of all time.
Midler and producer Robbie Buchanan enlisted two local artists, Johnson Enos and Na Hoku Hanohano Award winner Aaron Sala, to put together the vocal arrangement for the male chorus that backs her. Midler and Buchanan put a nostalgic spin on the song but show it the respect it deserves; the chorus adds in both respects. (Reviewed Dec. 4, 2006)