DAVID EYRE SR. / 1912-2008
Writer championed Star-Bulletin and pancakes
David Eyre Sr. was a restless spirit and a big thinker to the end, by his son's account.
Eyre, founding editor of Honolulu Magazine, died Wednesday of natural causes. He was 95.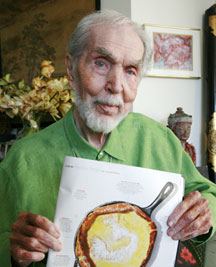 He recently completed a book on the Hawaii years of Clare Boothe Luce, a writer, congresswoman, ambassador and wife of renowned Time magazine publisher Henry Luce.
"I was just taken aback by the sharpness of his mind," said his 60-year-old son, David Eyre Jr. "He did a lot, and he had a very big mind until the very end."
Before moving to Hawaii in 1955, Eyre was with the Oregon Journal, Portland's evening newspaper, for 15 years. He served as managing editor.
In the isles he was Dole's public relations director until 1962 and later headed up public relations for Castle & Cooke.
While he was there, he created a corporate program that helped fund art projects in Hawaii.
"He had a real sense of appreciation for beauty and intellectual pursuits," said his son, adding that Eyre also supported the Honolulu Symphony and local theater projects.
"For me, growing up in that household, we had all sorts of wonderful minds walking through all the time."
In 2003 the National Society of Arts and Letters awarded Eyre its Roselani Medallion of Excellence for his support of literature and arts in Hawaii.
Eyre also is famous for his pancake recipe, which was published in the New York Times. The recipe, simply called "David Eyre's Pancake," lives on in many food sites on the Internet.
His son said Eyre had an activist's inclination and that he was among the few executives who spoke out against the Vietnam War. During the 1950s, Eyre was a trustee of Reed College in Oregon and supported several professors who were targeted by U.S. Sen. Joseph McCarthy's Cold War investigations.
"He's always been left-leaning since the New Deal," his son said. "He was really excited about what's happening to the Democratic Party now, because he, like so many of us, was so tired of the past few years."
At age 88, Eyre was active in the movement to save the Honolulu Star-Bulletin, which was in danger of being closed down by its previous owner. He made picket signs and came up with slogans while picketing sidewalks.
"He felt that because cities across the country were losing papers, he didn't want it to happen to Honolulu," his son said.
Eyre is survived by his son, daughter Conard of Volcano, eight grandchildren and seven great-grandchildren.
Memorial services will be held at 4 p.m. Feb. 16 at the Thurston Chapel on the Punahou School campus.