Punchbowl project draws darts
Some neighbors want to block Skyline Honolulu, a condominium project that they fear will mar Punchbowl Crater and add nearly 200 cars to a blind curve already busy with traffic.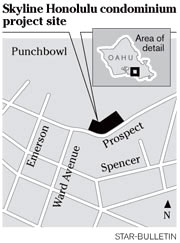 But the developer of the four-story, 96-unit project says it will blend in with the neighborhood, which is studded with much taller buildings, and will improve safety by widening Prospect Street and adding a sidewalk.
A public hearing was held Jan. 25 on the upscale project, which is on the mauka side of Prospect between Ward Avenue and Magazine Street. Prospect Properties LLC is seeking a Punchbowl Special District Permit, and the city is expected to decide on the issue this month.
The project, at 946 Prospect St., meets Punchbowl's 40-foot height limit. Taller buildings in the area were built before that limit went into effect.
Susan Andrade, who lives across the street, says the road already gets backed up with commuters traveling between Makiki/Manoa and H-1 and Pali Highway, and students attending Stevenson Middle, Lincoln Elementary and Roosevelt High schools. She thinks the new building would overload it.
"It's just too many apartments and too many cars, and our road can't handle it," she said. Her son, Robert, who lives nearby, said there are numerous accidents along that stretch of roadway. He also said there should be a moratorium on building until the area's aged sewer is updated.
Chris Deuchar, a spokesman for Prospect Properties LLC, said safety will be improved because some rock and a retaining wall will be cut back to improve visibility and the street will be widened. A traffic study, updated with car counts from the last two weeks, shows that the project would increase traffic by 6 percent during rush hour, he said.
"We're going to widen the road and dedicate some of the land to the city," he said. "We're going to cut away some of the corner so that it's easier to see around the corner. We're also adding a landscaped strip and a 5-foot sidewalk. That whole area as you come around the corner is going to be much safer, and it's going to be much better-looking."
Su Yates, another resident, objected to the idea of cutting into the natural rock where the road curves, saying "they want to gouge out Punchbowl, permanently deface Punchbowl." The crater houses the National Memorial Cemetery of the Pacific.
The Makiki/Lower Punchbowl/Tantalus Neighborhood Board has heard presentations on the project and has not taken a stand on it. The 1.6-acre lot is already zoned for apartment use and now has various homes on the bluff, hidden behind exuberant bougainvillea and mango trees.
The new, U-shaped building, would have 96 condominiums, ranging from one- to three-bedroom units, and 183 parking spaces. It would have a 30-foot setback from the street, more than the required 20 feet, with separate pedestrian and vehicle entrances.
Deuchar said Skyline Honolulu would not mar views of Punchbowl from the city. "Before" and "after" renderings of the project show that "for the most part, you can't see our project, given the high-rises around it," he said.