---
FAST FACTS HAWAII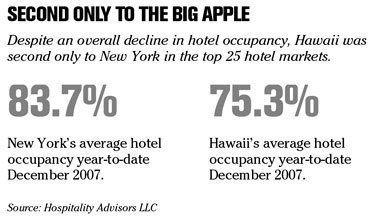 ---
HAWAII
A&B maintains dividend
Alexander & Baldwin Inc.
said yesterday it was maintaining its dividend at 29 cents a share for the fourth straight quarter.
The payout, which equates to an annualized yield of 2.5 percent, is payable March 6 to shareholders of record as of the close of business on Feb. 15.
A&B, parent of Matson Navigation Co., plans to release its fourth-quarter and full-year earnings before the opening of the stock market on Tuesday.
HAWAII INC
Board of Directors
» The Prince Kuhio Hawaiian Civic Club has elected its directors and officers for 2008: Officers are
Chasmin Sokoloski
, president;
Charmain Wong
, first vice president;
Verlianne Malina-Wright
, second vice president;
Keala Pruet
, corresponding secretary;
Pua'alaokalani Aiu
, recording secretary;
Claire Pruet
, treasurer; and
Eddie Akana
, past president. Board members are
Alma Cirino, Richard Jackson, Esther Kia'aina, Wendy P. Mayer, Kapono Ryan
and
Robert Worthington
.
» The General Contractors Association of Hawaii has elected its directors and officers for 2008: Officers are J. Gerry Majkut, president; Garrett J. Sullivan, first vice president; Conrad H. Murashige, second vice president; Wes S. Mikuni, treasurer; Johnny Y. Higa, secretary and executive vice president; and Darrell S. Goo, immediate past president. Associated General Contractors of America national directors are Glenn M. Nohara, Gordon L. Scruton and William J. Wilson. Directors are Clay Y. Asato, Richard A. Heltzel, Leslie K. Isemoto, Kenneth J. Kobatake, Leonard K.P. Leong and Dale Sakamoto-Yoneda. Garner M. Shimizu is subcontractors council chair. Past president directors are Thalia C. Choy, Mitsuru Kaneshige, Rodney H. Nohara and Russell K. Young.

» The Rehabilitation Hospital of the Pacific has elected Dr. Bruce S. Katsura and Dr. Timothy J. Roe to its board of directors. Dr. Katsura serves as medical director of rehabilitation at Kapiolani Medical Center at Pali Momi and Dr. Roe serves as chief executive officer of HG Pacific Management.
» Governor Lingle has appointed Russell Lundberg to the State of Hawaii's wireless enhanced 911 board for 2008. The board manages the fund for implementing enhanced 911 service in Hawaii, which allows first responders to pinpoint a caller's location in emergency situations. He currently serves as director of network engineering for Mobi PCS.
Awards
» The Aloha Section PGA has honored Waikoloa Land Company president
Thos Rohr
with the distinguished service award. The award recognizes an individual's unique contributions and dedicated service in the development and promotion of the golf industry in Hawaii. His contributions include the building of the Bay and Village Courses with Arnold Palmer, the renovation of the Robert Trent Jones Beach Course and buiilding of the Kings' Course with Tom Weiskopf, and his support of the Hawaii State Women's Golf Foundation and numerous junior golf programs.
NATION
Countrywide deal hearings urged
LOS ANGELES » Consumer groups in four states asked congressional banking and finance committees yesterday to conduct hearings on
Bank of America Corp.
's proposed $4.1 billion buyout of struggling mortgage lender
Countrywide Financial Corp.
Consumer groups from California, New York, New Jersey and North Carolina sent letters requesting that lawmakers investigate the possible impact of the buyout on Countrywide borrowers.
They also want lawmakers to press the companies to explain how borrowers having trouble making mortgage payments and those at risk of falling behind when adjustable rates reset can keep their homes.
Iger's Disney gig extended
LOS ANGELES »
Walt Disney Co.
said yesterday it signed Chief Executive Robert Iger to a new five-year deal that will pay him a base salary of at least $2 million a year through 2013.
He could also receive $10 million or more each year in bonuses.
In a statement yesterday, the Burbank, Calif.-based company's board of directors praised Iger's job performance, noting the executive presided over record revenues, net income and earnings per share.
Iger's previous contract was set to expire Sept. 30, 2010. His new contract runs through Jan. 31, 2013.
WORLD
Alcoa, Chinese rival join in stake
SHANGHAI »
Alcoa Inc.
and
Aluminum Corp.
of China jointly acquired 12 percent of the shares of global mining company
Rio Tinto PLC
in a deal believed to be worth $14.05 billion, the companies said yesterday.
It is the largest overseas investment ever by a Chinese company, Aluminum Corp. of China said, and could very well obstruct a bid from Anglo-Australian mining giant BHP Billiton for Rio Tinto. Alcoa said it contributed $1.2 billion to the total investment.
Deal near in Dow Jones case
WASHINGTON » Former Dow Jones & Co. director David Li and a Hong Kong couple settled a U.S. Securities and Exchange Commission investigation into alleged insider trading during the company's takeover last year, two people with direct knowledge of the matter said yesterday.
Li, 68, chairman of Bank of East Asia Ltd. and a member of Hong Kong's legislature, will pay a fine of about $8 million and Kan King Wong and Charlotte Ka On Wong Leung will forfeit a similar amount in trading profits, according to the people, who declined to be identified because the accords aren't public.
---
BUSINESS PULSE