Bankoh earnings fall almost 20%
The bank cites its costs of a legal battle and an increase in its loan-loss provision
Bank of Hawaii Corp. said yesterday that net income fell 19.7 percent in the fourth quarter, due to a $5.6 million litigation charge related to its membership in Visa U.S.A. Inc. and a 74 percent increase in its loan-loss provision.
The state's second-largest bank in terms of assets had earnings of $40.9 million, or 83 cents a share, compared with $50.9 million, or $1.01 a share, a year earlier.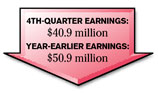 Excluding one-time items, analysts were expecting earnings per share of 94 cents, according to Thomson Financial.
Revenue rose 3.9 percent to $159.7 million from $153.7 million.
The Visa charge, which reduced net income by 7 cents a share, pertained to antitrust lawsuits filed against the credit-card company. Similar charges were taken by dozens of member banks, which are expected to be repaid after Visa goes public later this year.
FTN MidWest Research analyst Brett Rabatin said that without the charges, Bank of Hawaii missed earnings estimates "by a penny or two."
Overall, he called Bankoh's quarter "pretty solid."
Bankoh increased its loan-loss provision to $5.4 million from $3.1 million, primarily for automotive and unsecured loans.
The bank said none of the loan-loss provision was related to exposure to subprime mortgage loans.
The bank also said it took a $1.7 million fraud loss due to a scheme perpetrated by an individual who fled the country after withdrawing money on uncollected funds by setting up accounts between two banks and passing checks back and forth.
"We clearly had a little bit of a setback with the unexpected charges this quarter, but fundamentals were pretty strong," Chairman and Chief Executive Allan Landon said.
Net interest income, reflecting the difference between what Bankoh pays depositors and what it brings in from loans, slipped 0.8 percent to $99.4 million from $100.2 million as investors shifted deposits into higher-yielding accounts.
Noninterest income, which includes fees and service charges, jumped 12.6 percent to $60.3 million from $53.5 million, with $3.1 million of the revenue attributable to the sale of unused real estate from a former bank branch on Beretania Street in Makiki that had been leased to a culinary school.
In the fourth quarter, Bankoh's assets slipped 0.9 percent to $10.47 billion from $10.57 billion a year earlier. Loans and leases fell 0.6 percent to $6.58 billion from $6.62 billion. And deposits dropped 1 percent to $7.94 billion from $8.02 billion.
The bank also maintained its quarterly dividend at 44 cents. It will be payable March 14 to shareholders of record at the close of business on Feb. 29.
For the year, net income edged up 1.9 percent to $183.7 million, or $3.69 a share, from $180.4 million, or $3.52 a share. Revenue increased 2.7 percent to $635.5 million from $618.8 million.