---
FAST FACTS HAWAII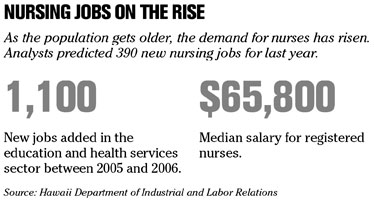 ---
HAWAII
Aloha, Mokulele in cargo deal
Aloha Airlines
will expand its air cargo service to Molokai, Lanai and Kapalua, West Maui, under a deal with
Mokulele Airlines
. Mokulele, which operates go!Express passenger service for
Mesa Air Group
's go!, plans to start the new service in April.
Bankoh earnings off 19.7%
Bank of Hawaii Corp.
's earnings declined 19.7 percent in the fourth quarter after it took a $5.6 million litigation charge related to its membership in
Visa U.S.A. Inc.
and boosted its loan-loss provision 74 percent. Revenue rose 3.9 percent to $159.7 million.
Maui Brewing doubles capacity
Maui Brewing Co.
is expanding its new production brewery in Lahaina.
The brewery has installed two 100-barrel tanks, one fermenter and one brite tank for conditioning to help meet increased demand, it said yesterday. The additions double the capacity of the brewery, which opened eight months ago.
Maui Brewing also purchased ink jet coders to date code cans, a pneumatic air lift for lifting cans into place in the canner, and other components from the Maui Land & Pineapple Co. cannery auction in October. The company also operates a brew pub at the Kahana Gateway Center.
NATION
Verizon earnings rise 3.9 percent
NEW YORK »
Verizon Communications Inc.
said yesterday it was seeing little effect of the turmoil in the U.S. economy, reporting higher fourth-quarter earnings that were largely in line with expectations.
"We have not seen a change in our sales expectation through January," said CFO Doreen Toben.
Verizon earned $1.07 billion, or 37 cents per share, in the October-December period, compared to $1.03 billion, or 35 cents per share, a year earlier. Revenue for the most recent quarter came to $23.8 billion, up 5.5 percent from $22.6 billion a year ago but slightly below the average analyst forecast at $23.96 billion.
WORLD
Charges filed in $7B loss
PARIS » Investigating judges filed preliminary charges yesterday against a trader accused of causing billions in losses for France's second-largest bank and released him from custody.
Jerome Kerviel was preliminarily charged with "breach of trust" and unauthorized computer activity, said attorney Christian Charriere-Bournazel.
The allegedly illicit trades, if confirmed, would amount to the largest securities fraud ever committed by an individual. Societe Generale said it lost $7.09 billion, but that the low-level trader was making deals worth tens of billions.
---
BUSINESS PULSE