'It's too late now,' tot's mom admits
The mother of dead baby Cyrus Belt says she tried to be a good parent
In her stormy years of drug relapses and abusive relationships, Nancy Asiata Chanco let go of two sons.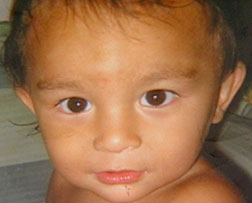 "This baby was my first baby that I really took care of on my own. All he wanted to do was be beside his mommy. He's the only thing I cared about enough to change. And it's too late now."


Nancy Asiata Chanco
Mother of Cyrus Belt, pictured above
She viewed her third, Cyrus Belt, as an opportunity to become a good mother.
"He's the only reason she wanted to turn her life around," said Chanco's father, Lilo Asiata, 62. "She just started coming around and taking care of her boy. She was beginning to be a good mother, and now, for this to happen, it's so sad."
Chanco, who visited her Iolani Avenue apartment yesterday for the first time since just after Cyrus' death, said she was a young mother who made mistakes and was attempting to correct them.
"This baby was my first baby that I really took care of on my own," Chanco said. "All he wanted to do was be beside his mommy. He's the only thing I cared about enough to change. And it's too late now."
The boy, just shy of 2, was thrown to his death from a pedestrian bridge Thursday in a case that has raised questions about the state's role in protecting children from neglectful families.
Matthew Higa, 23, who lives in the same Makiki apartment complex, has been charged with murder and is due to appear in court tomorrow.
As Chanco mourns Cyrus' death, she must face a past filled with child endangerment allegations.
Records released Saturday by the state Department of Human Services depict Chanco, 33, as a young mother who failed more than once to properly care for her sons because of drugs.
The documents, totaling more than 180 pages, detailed cases Child Protective Services had investigated and sometimes closed. Portions of the documents have been blacked out, including names of family members, complainants and the caseworkers.
Her eldest son, now 16, has lived with other relatives for most of his life. In May 2002, when he was 11, Chanco left him with a relative while she searched for housing and a job. But after a month of fully supporting Chanco's son, the relative filed for power of attorney.
Shortly after giving birth to her second son in December 2002, Chanco was accused of becoming detached from her newborn and allegedly made comments to family members that she did not want the baby. Her second son, now 5, lives in Turkey with Chanco's mother.
When Chanco was about five months pregnant with Cyrus in 2005, she admitted to relapsing and taking crystal methamphetamine again.
After his birth, relatives and neighbors called Child Protective Services, alleging that Chanco sometimes disappeared for three or four days at a time to do drugs and failed to provide proper care. Police officers found in June 2006 that the home had no electricity.
Caseworkers closed the case, and one family services assistant called Chanco an "attractive and intelligent" woman who provided a happy home for Cyrus.
A couple of weeks ago, there was another complaint against Chanco, but Child Protective Services said there were no immediate safety issues.
Chanco's father, Asiata, criticized the state Department of Human Services for releasing the documents and said officials were trying to place the blame on their family.
"It saddens me to think that they'd bring these things out at a time like this," said Asiata, who also lived in the apartment and cared for Cyrus.
The department's director, Lillian Koller, had said in a statement that the intention was not to set blame, but to determine whether anything could have been done to help Cyrus.
Carroll Cox, a well-known environmental activist whom the family called for help, said yesterday outside their apartment that Child Protective Services had investigated the family and should have taken action if caseworkers thought the family posed a threat to Cyrus' well-being.
A TIME LINE TO
A TRAGEDY
Documents provided Saturday by the state Department of Human Services show that Nancy Asiata Chanco had a history of abusing and neglecting her children as she battled drug problems and abusive relationships throughout the years:

Feb. 24, 2000
Social Services confirms that Chanco has physically abused her then 7-year-old son.

Aug. 13, 2002
A person caring for Chanco's then 11-year-old boy alleges that Chanco has abused and neglected her son, and requests power of attorney. According to documents, Chanco, unemployed and five months pregnant, had left the child with the caretaker a month earlier while trying to secure housing. Social Services initially cannot contact Chanco because her phone number at a Noeau Street home is disconnected. Social Services later contacts Chanco, who agrees to give power of attorney to the caretaker. Chanco is attending weekend classes on paralegal work at Chaminade University.

December 2002
Chanco marries a man known to be a drug dealer. She also gives birth to a boy. However, her new husband is not the boy's father, but the boy carries his name.

Dec. 28, 2002
During a routine traffic stop, police officers find Chanco's 11-year-old son with a man identified only as Chanco's friend. Police officers find drugs allegedly in the man's possession and give the child to his hanai aunt, Chanco's brother's ex-girlfriend. Chanco, who denies knowing her friend had drugs on him, says she left her son with him when she went on an errand with her newborn.

Jan. 7, 2003
Chanco visits the home of a relative, who notices Chanco almost dropping the newborn baby and says the baby's head was "flopping all around." She also says the baby's formula was "way too hot" when Chanco tried to feed him. Chanco also allegedly made statements that she did not want to keep the baby.

Jan. 9, 2003
A complaint is filed against Chanco and her then-husband that they allegedly have neglected and abused her 11-year-old son and a newborn. Social Services later concludes that a protective services investigation is necessary because of Chanco's and her husband's drug history and signs showing she is becoming detached from her newborn.

Jan. 13, 2003
Child Protective Services contacts officials with Heeia Elementary School, where one of Chanco's children is enrolled. The principal tells them the child is attending school every day and doing well. The child is back with his mother. However, school officials say his aunt has been his primary caregiver for most of his life.

May 5, 2003
Chanco, who says she is sober, tells Child Protective Services she will make appropriate child care arrangements in the future. Child Protective Services warns there could be an intervention involving Family Court if there are future complaints.

Feb. 7, 2006
Chanco gives birth to her third child, Cyrus Belt.

Feb. 9, 2006
Child Protective Services confirms there is a threat of abuse and neglect of Cyrus Belt by his mother. The case is referred to Home-Based Support Services.

April 11, 2006
The Home-Based Support Services closes Chanco's case. In a report dated May 16 written by a family services assistant, Chanco is described as an "attractive and intelligent woman" who seems to be an "intuitive parent." Chanco worked as a surgical technician with a dental surgeon and had hoped to return to the same job, the report says. Chanco lives with her father and stepmother, her boyfriend, her landlord's son and his girlfriend in a home. Chanco's other two minor children do not live with her.

May 26, 2006
An anonymous caller reports concerns over Chanco and her family, saying they live in a "notorious drug house" and that Chanco is not home often and leaves Cyrus with his grandfather. The caller says the family might have "run out of money" and wonders whether there is enough food at home.

June 6, 2006
A neighbor calls a state child welfare hot line and says Chanco leaves Cyrus alone for three to four days at a time with his grandfather, who is elderly and incapable of caring for the newborn.

June 16, 2006
A relative files a complaint against Chanco, alleging that she leaves Cyrus with his grandfather while she uses drugs. The aunt also alleges that Chanco uses her welfare checks to purchase drugs and that the house has no electricity for at least two days. The family also allegedly fights frequently, presumably in front of Cyrus. Chanco had called the aunt for help, and after not hearing from Chanco in two days, the aunt called the Department of Human Services.

June 19, 2006
Cyrus -- then 4 months old -- is placed in foster care for four days after police officers allege that Chanco has put her child in danger because her drug problems prevent her from caring for him properly.

Aug. 10, 2006
Child Protective Services closes the case for Chanco, saying she has been consistent in unannounced home meetings with a family services assistant.
In a report, the Department of Human Services notes through several home visits, the "home has been deemed safe and mother/child has a strong, secure and happy bond."

July 2, 2007
Child Protective Services terminates services, closing the case, for Chanco.

Jan. 11, 2008
A complaint is filed against Chanco, alleging that there has been a threat of abuse and neglect of Cyrus. Child Protective Services reopens the Chanco case and forwards the case to Voluntary Case Management Services. The report notes that there have been no immediate safety issues identified and that the family is facing challenges that could be controlled by Chanco's substance abuse treatment and other relatives for help.

Thursday (Jan. 17, 2008)
Cyrus dies after being thrown onto the H-1 freeway from a pedestrian bridge. Earlier that day, Cyrus is found wandering by police, who bring him back to his grandfather. The grandfather allows a neighbor to take Cyrus for a walk, according to police, which leads to his death.
The report notes that the suspect, Matthew Higa, appears to have mental health issues and has been observed "spitting, kicking and behaving irrationally."
In an interview with officials at the Queen's Medical Center, Chanco says she has been sober for a long time and is willing to take a drug test to prove it. She promises to never allow any of her children to go off with anyone again.