Man throws tot off bridge onto H-1
The baby dies in the road, but witnesses nab a fleeing suspect
STORY SUMMARY »
A 23-year-old man was in police custody yesterday after he allegedly threw a young neighbor boy from a 25-foot pedestrian overpass and into the path of vehicles on the H-1 freeway.
Matthew M. Higa was arrested shortly after 11:40 a.m., when witnesses reported seeing him throw the child from the Miller Street pedestrian overpass.
The boy, 1, was found dead on the freeway's far right, westbound lane, officials said. He was hit by at least one vehicle, police said.
Higa's Iolani Avenue neighbors said Higa lived upstairs from the boy in an apartment building.
The mother of the toddler cried out last night after discovering it was her child who had been killed. She screamed hysterically after her father confirmed her son was dead.
Investigators shut down the Ewa-bound lanes of the freeway for hours, stalling traffic for drivers throughout Honolulu.
---
FULL STORY »
Police arrested a 23-year-old man yesterday who allegedly threw a young neighbor boy from a 25-foot freeway overpass into the path of speeding cars, shutting down the H-1 freeway's westbound lanes for three hours and backing up traffic throughout Honolulu.
Matthew M. Higa was arrested near Prospect Street after witnesses and police chased him up Miller Street soon after he allegedly tossed the child from the pedestrian overpass at about 11:40 a.m.
The mother identified him as 1-year-old Cyrus Belt.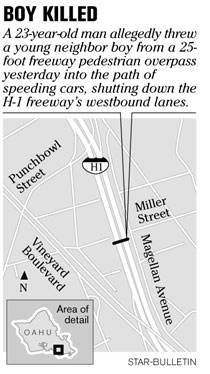 At least one vehicle ran over the boy, said Bryan Cheplic, spokesman for the city Emergency Services Department.
Several area residents said that as many four people ran after Higa, who was wearing green hospital scrubs and pants cut off at the knee. One man grabbed Higa by his shirt collar and pulled him to the ground, according to a witness who asked not to be identified.
Last night at the Iolani Avenue apartment building where Higa lived, the mother of the toddler cried out in anguish after discovering it was her child who was killed.
The 33-year-old mother, who gave her name only as Nancy, said Cyrus was under the supervision of her 62-year-old father and her 29-year-old boyfriend yesterday morning.
She said she woke her father to let her know she was leaving the Iolani Avenue apartment.
But Cyrus, who would have turned 2 on Feb. 7, wandered down the street later that morning while her boyfriend, Shane, was fixing his car in the apartment parking garage.
A police officer brought the child back and the boyfriend put him inside the apartment, said Nancy.
Shane later left to pick up Nancy to take her to appointments in Iwilei and Ala Moana.
"I guess he didn't wake my dad up," she said.
While out, Nancy said she heard from a neighbor that "Matthew had thrown a baby off the freeway," and that's when she started to panic.
She tried to get home but the car kept overheating and her cell phone wasn't working.
When she finally arrived home shortly after 7 p.m., she demanded to know what happened to her child, and her father told her he was dead.
Her father told her he was asleep when Cyrus disappeared.
Nancy said she identified her neighbor, Matthew Higa, to police in a photo lineup.
"I would never have left him with Matthew," she said. "He was strange" and "not all there."
"He always tried to hold the baby," she said, and was aggressive in his attempts.
Nancy said Cyrus' biological father has been in prison since he was 2 weeks old, and Shane was the only father he knew.
"I don't know what happened," Nancy said. "How can somebody do that?"
Nancy said Cyrus was the youngest of her three boys. She has a son, 16, who lives with his father, and another 5, who lives with her mother.
In August 2004, Higa was investigated for third-degree negligent homicide in a case involving three cars racing on the H-1 freeway near Alexander Street, but the case was not prosecuted and he was not charged.