Putumayo goes 'local to the max'
Dave Dunaway, half of the lead duo in the Hawaiian band Imua, thought that their "Menehune Beach Bum Boogie" would've been picked. Or at least "Hana Butta Days."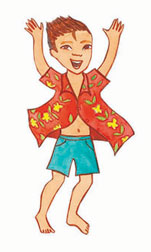 But when he found out that Putumayo World Music chose "Local to the Max" for inclusion on its latest children's music compilation, "Hawaiian Playground," Dunaway was surprised. The international company opted for a song that was not necessarily aimed at kids, but was about "living local and how we live every day in the culture."
Such is the philosophy of Putumayo, led by CEO and founder Dan Storper. Since 1993, it has offered compilations of world music that attract curious listeners both young and old to the friendly sounds of countries far and wide. "Hawaiian Playground" is the first in the series of Putumayo Kids CDs to focus on our islands. With worldwide release set for Tuesday, Imua will help celebrate the event by playing at a release party at the Hawaii Children's Discovery Center in Kakaako on Saturday morning.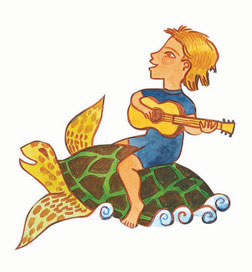 "It was a trip when they called us to be part of this cultural CD," Dunaway said. "I guess they liked the music they heard from our 'Greatest Hits, Volume One' album when they contacted our producer, Aaron Kimura. Yeah, we wanted to be part of it! Shoot, our group has always been about kids, and I think our song is perfect to share with kids outside of Hawaii. Putumayo has a great mission to introduce people and children to the world through music, and we're honored that they asked us to be part of this album." (See review of "Hawaiian Playground.")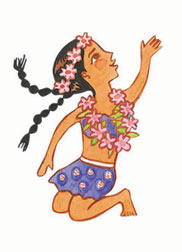 Speaking by phone from his New York office last week, Storper said much of the success of the label has been the willingness to market its CDs outside of the usual music outlets.
"We became aware that, through a variety of ways, we could sell our music in such nontraditional market areas as gift and health shops, art galleries and other interesting alternative places. And over the years, sales have grown in these areas. In 1999, we released 'World Playground,' our first of the kid series. The idea behind that was that while many friends of mine had kids and grandkids who loved our adult compilations, we should put together something solely for kids.
"When we first started this series, we tried to avoid stereotyping and narrowcasting," Storper said. "We look for songs that would have a universal appeal. Our core group is generally 3 to 8 years old, although we've heard from kids that they've been listening since they were born, or they're still enjoying the music upwards to age 10. We generally pick songs with a gentle, melodic sensibility that won't drive kids and parents crazy."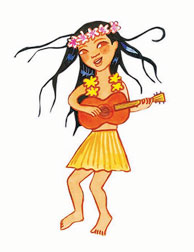 He hopes that "Hawaiian Playground" will appeal, like previous Putumayo Kids releases, to all listeners young at heart. "Hawaii is an interesting cultural area in the United States, and one we haven't explored. We've had songs from Hawaii on two of our previous adult compilations, 'Islands' and 'Music from the Coffee Lands,' but we've never focused on Hawaii itself until now."
To date, more than 2.5 million Putumayo Kids CDs have been sold in about 100 countries the world over.
Two mainland acts are included on the CD singing of the virtues of Hawaii, but Storper said "we try to make sure that the local music has a decent representation."
Mountain Apple will help distribute the CD in Hawaii; expect it in most stores by February.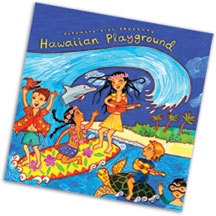 ONE PERCENT of the proceeds from the sale of "Hawaiian Playground" is slated for donation to the local family service agency Parents and Children Together. That is part and parcel of the label's outreach commitment. Last year, Putumayo World Music donated more than $50,000 to various charitable causes.
Activity kits related to the CDs are also part of the educational process, and sure to be distributed at the Hawaii Children's Discovery Center.
Its president and CEO, Loretta Yajima, is excited to have the CD release party at the center, in light of its "Your Rainbow World" exhibit, with its representations of Portuguese, Filipino, Japanese, Chinese and Korean homes.
"It also gives local children the opportunity to learn about their own ethnic heritage, so it's a wonderful opportunity to learn about the world beyond our island shores," Yajima said. "And that's part of the whole purpose behind Putumayo World Music."
Imua has played at the center before, and the band's gig there on Saturday will be the first since returning from a two-week tour of Japan, where Dunaway said they have a solid fan base.
When not on stage, Dunaway is a longtime sixth-grade math and physical education teacher at Jarrett Middle School. Whenever he and singing partner Albert "Baba" Akiona write new songs, Dunaway generally tests them out on his kids to see if they like them.
"We always believed in doing backyard, family-oriented music," he said. "We always watch our lyrics. We don't want to end up censoring our own music, where parents would feel bad about their children listening to us. We never wanted to compromise what we do."
---
Album is a fun introduction to Hawaiian music
This anthology is the latest in a series of "world music" children's albums from New York City-based Putumayo World Music. The series began with the release of "World Playground" in 1999, went from there to "Animal Playground" and "Reggae Playground," and continued with albums focusing on the music of Brazil, Latin America, Africa, the Caribbean, New Orleans and the Celtic people of Scotland, Ireland and Canada. Outsiders are sometimes confused by the details when they first encounter Hawaiian music, but this colorfully packaged album is a fine introduction to it for kids in the lower elementary grades.
'Putumayo Kids Presents Hawaiian Playground'
CD release concert with Imua:

Place: Hawaii Children's Discovery Center, 111 Ohe St., across from Kakaako Waterfront Park

When: 11 a.m. Saturday

Admission: Free

Call: 524-5437
"Hawaiian Playground"
Various artists

(Putumayo Kids)
MP3 Audio Clips
» "Holoholo Ka'a"

» "The Cockeyed Mayor of Kaunakakai"
Willie K, Ehukai, Teresa Bright, Justin Young, Raiatea Helm, Robi Kahakalau & Bu La'ia, Imua and Keali'i Reichel are joined by a band from New York and a singer from Texas in representing the music and traditions of Hawaii.
Since this is a children's album, the selections represent the whimsical side of Hawaiian and hapa-haole music. Translations of the Hawaiian lyrics aren't provided, but kids will accept the explanation that "Holoholo Ka'a" is about "taking a joyride with a friend" and therefore enjoy Willie K's spirited old-style arrangement without pondering the possible existence of kaona (hidden meanings). They'll also enjoy joining in with the chorus on Keali'i Reichel's "Toad Song."
Bu La'ia isn't credited as Robi Kahakalau's partner on "Pi'i Mai Ka Nalu," but kids outside Hawaii will be instantly intrigued by his pidgin as they hear him asking for a surfboard to "borrow" and trying to earn money "for buy poi." Add Fiji and Michael Grande to the song, and it is another one Hawaii can be proud of. Bright, Young and Helm also distinguish themselves as representatives of traditional Hawaiian and hapa-haole music. Helm gives the kids a taste of Hawaiian falsetto, while Ehukai adds a catchy dab of Jawaiian music to the collection.
"Come to Hawaii," written and recorded by Texas resident Joe McDermott, is new fare for Hawaii and pays homage to the Tin Pan Alley era of almost a century ago while giving kids plenty of ideas on how they can create their own version of Hawaii in the backyard. McDermott even includes a quick lesson on how to tune an ukulele.
Teachers should note that despite what the liner notes say, Willie K was born on Oahu, not Maui, and that the ukulele came to the islands with Portuguese plantation workers, not sailors. But overall, this is a great vehicle for introducing elementary school kids to modern Hawaiian music.