| | |
| --- | --- |
| | Island Mele |
---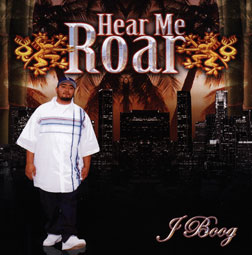 "Hear Me Roar"
J Boog
(South Pac Entertainment Group)
J Boog "roars" with extensive support from his producer and song-writing partner, Na Hoku Hanohano Award-winning megastar George "Fiji" Veikoso. The two co-wrote almost every song, and Fiji also arranged all of them and sang on most of them. With studio veteran Michael Grande on keyboards, this could easily be a new Fiji album, and that fact almost guarantees Boog play on Hawaii's island-music radio stations.
The contents make this another Polynesian-American project in which mainstream hip-hop songs are juxtaposed with Jawaiian (or Jamoan) material. "One Man Woman" and "Ganja Farmer" position J Boog as a Jamoan artist, while he and Fiji draw on both genres in the title song. The mix-and-match strategy also works with the lead-off song, "Run Up," which opens the album with a hip-hop-style call "to all my soldiers here" while also incorporating Rastafari references in "Babylon."
Boog establishes his credentials as an urban-style balladeer with two other selections, "Come And Get It" and "Do You Remember?"
What's missing from this smoothly produced project is any significant trace of Boog's Samoan heritage in either the lyrics or the arrangements. There's no question that an artist who hopes to hit it big in the American pop or urban/hip-hop market must perform in English. However, adding Samoan lyrics or instrumentation to a song or two could help him break out as a unique talent amid the thousands of solo artists and groups that are striving to reach the same objective.
---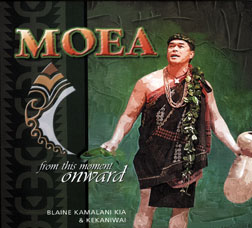 "Moea"
Blaine Kia
(Keala)
Kumu hula Kamalani Blaine Kia commemorates his first decade as a husband and father with this bilingual collection of Hawaiian and hapa-haole music. The title can be translated into English as "to press onward," and he mentions in the liner notes that it represents his goal of "expressing my accomplishments through music that have brought about personal fulfillments." This he does in English as well as Hawaiian, chanting in Hawaiian and singing in both languages.
Kia opens the project and establishes the theme with the title track. The arrangement is atypical, however; Greg Sardinha provides New Age electronic effects, whereas contemporary Hawaiian instrumentation -- ukulele, guitar and bass -- predominates thereafter.
Kia pays tribute to two famed kumu hula, John Kaimikaua and Darrell Lupenui, with "Manu 'O'o," a hula standard of apparently unknown origin that compares a loved one to the beautiful honey creeper. Kia's arrangement has a get-up-and-dance feel to it that will appeal to hula dancers everywhere.
"Pua Lomilomi," one of his own compositions, will also appeal to those hula dancers who enjoy conveying the meaning of risqu lyrics in visual form.
Kia steps forward as an interpreter of other composers' work with new versions of three songs by Hoku Award-winning composer Kawaikapuokalani Hewett, and displays his imagination as an arranger with a zesty uptempo version of "I Am Hawaii" that he opens with chant.
---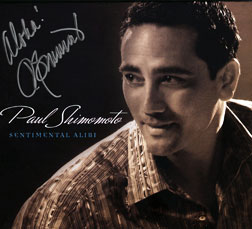 "Sentimental Alibi"
Paul Shimomoto
(Lei Hano)
Paul Shimomoto won a singing contest in 2003 and made his debut as a recording artist the following year. His first album, "Magic Beside the Sea," was (as I wrote then) "a fine salute to Hawaii's hapa-haole music heritage." Shimomoto builds on that promising first album with his second collection of romantic hapa-haole standards -- plus a few American pop classics that fit perfectly.
It's clear by the end of the first verse of the first song, "Beautiful Kanani," that Shimomoto is picking up where he left off in 2004. His rendition is simultaneously retro and contemporary, respectful of the past but not an attempt to mimic it. "Lovely Hula Girl," "Honolulu (I Fell in Love With)" and a medley that combines "Dancing Under the Stars" with "I'll Weave a Lei of Stars for You" all reaffirm his love of hapa-haole music, while his take on "Let's Fall in Love" serves notice that he can also swing.
Shimomoto evokes memories of Territorial Era hapa-haole and pop music by having a pianist as his primary accompanist on these beautiful arrangements. Add a little guitar here, drum and bass there, and a live string section as well, and his "alibi" lives up to expectations and then some.
Lei Hano Records, LLC
c/o 737 Bishop Street - Suite 2100
Honolulu HI 96813
John Berger
, who has covered the local entertainment scene since 1972, writes reviews of recordings produced by Hawaii artists. See the Star-Bulletin's Today section on Fridays for the latest reviews. Reach John Berger at
jberger@starbulletin.com
.