Search for lost pilot continues
Delay in accident report goes unexplained
Federal officials were at a loss to explain a 97-minute delay between the time an interisland aircraft vanished from radar screens yesterday and the first call for help to the Coast Guard.
The Coast Guard was to continue its search last night for a 38-year-old Alpine Air pilot whose aircraft crashed at sea before dawn even as his lights were visible at Lihue airport.
The pilot was the only person aboard the twin-engine Beechcraft 1900 aircraft.
Crew members aboard a 25-foot Coast Guard boat spotted debris about seven miles south of the Lihue airport at 8:50 a.m. The debris included pieces of the fuselage, at least 15 mailbags and an inflated lifeboat.
The pilot works full time for Alpine Air, based at 99 Mokuea Place in Honolulu. He has been with the company on and off for three years, according to David Dart, Alpine Air Hawaii station manager.
"This is a phone call you always dread to get," Dart said. "We are all praying and wishing the Coast Guard success with the search for the pilot."
Alpine withheld his name.
The flight left Honolulu at 4:43 a.m., carrying 4,200 pounds of mail, and was scheduled to arrive at 5:15 a.m.
The plane was last seen on radar at 5:08 a.m. about 100 feet above the water, said Federal Aviation Administration spokesman Ian Gregor. Typically, aircraft inbound to Lihue fly at about 1,500 feet, he said.
The FAA did not receive a mayday call, and no emergency transmitter was activated, officials said.
The plane apparently descended in a matter of seconds, Coast Guard officials said. The aircraft's lights were spotted by ground crew members at Lihue, said Petty Officer 3rd Class Angela Henderson.
The tower at Lihue called the Coast Guard at 6:45 a.m. to report that the aircraft failed to arrive, Henderson said.
"You would have to call the airport and ask them why they waited so long," said Henderson by phone last night.
Gregor was unavailable to address that question.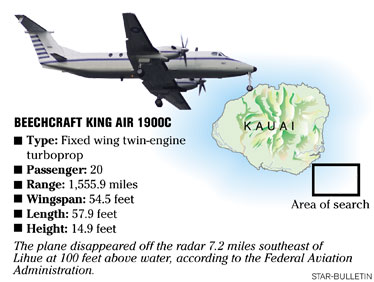 The Coast Guard launched two HH-65 Dolphin helicopters and a C-130 airplane from Barbers Point Air Station on Oahu and the 87-foot patrol boat Kittiwake from Nawiliwili, Kauai.
The 225-foot buoy tender Walnut was to assist last night.
Alpine Air called Lihue Airport at 7:35 a.m. to check on the plane.
"After searching the airport grounds, we couldn't find the aircraft," said Scott Ishikawa, spokesman for the state Department of Transportation.
Alpine Air is subcontracted by Corporate Air to transport mail to Lihue, Waimea on the Big Island, Lanai and Molokai for the U.S. Postal Service. It is also subcontracted by Aloha Airlines to transport mail to Hilo, Kona and Kahului.
This was the second flight that left Honolulu for Kauai yesterday morning, according to Duke Gonzales, spokesman for the U.S. Postal Service. There are two to three daily flights to Kauai from Honolulu, he said.
Coast Guard search crews battled waves nearly 20 feet high and winds stronger than 28 mph (25 knots), said spokesman Lt. John Titchen.
The Kauai Fire Department sent out its boat and rescue helicopter to help with the search, said county officials.

At 8:20 a.m., Kauai fire units were dispatched to search for the pilot and debris along the coast from Makaweli Point to Nawiliwili Harbor.
Star-Bulletin reporter Tom Finnegan contributed to this report.