MITCH FARNEY / 1987-2008
UH receiver dies in Phoenix
A week of solemn goodbyes at the University of Hawaii turned tragic Tuesday night.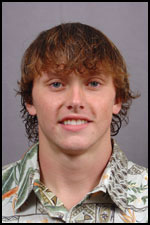 Warrior freshman receiver Mitch Farney suffered an apparent heart attack while playing basketball in Phoenix, his hometown, and died later that night at the hospital. He was 20.
Receivers coach Ron Lee spoke to Thomas Farney, Mitch's father, yesterday morning on the phone.
"He's understandably devastated ... he couldn't stop crying," Lee said. "What a week it's been. I feel terrible."
Lee was also referring to the recent departure of coach June Jones to SMU and the firing of athletic director Herman Frazier that preceded the unwelcome news.
Farney was on the verge of transferring out of UH to Weber State in Utah, an opponent on the Warriors' 2008 football schedule, citing homesickness and a desire to get on the field.
"I know Mitch as a great kid," Lee said. "His parents did a great job raising him, and he was an excellent student. He was happy and looking forward to the challenge (of playing us)."
Farney redshirted in 2006 and had played on the scout team for UH since lettering four years in track and three in football at Shadow Mountain High School in Phoenix. He was also a producer in the classroom as a member of the National Honor Society, and in society as part of the March of Dimes.
Word got out fast to the Warriors players and assistant coaches. Seniors participating in the Hula Bowl proceeded to practice yesterday, but some said they had Farney on their minds.
Senior wideout Jason Rivers was shocked by the news of his fellow receiver last night. When asked about it after practice, he took a knee.
"It's so unfortunate -- last night I almost cried," Rivers said, calling Farney a "hard worker" and a "great person."
Rivers said he got to know Farney over the course of the season when the freshman talked to him about finding a place to live off-campus.
"I said my prayers last night for him and his family," he said.
Safety Jake Patek said he didn't know Farney well, but came to Manoa initially on the same recruiting trip. Patek was coming out of junior college while Farney was straight out of high school. It was a sobering experience when he got word last night.
"It's almost unbelievable. I was kind of speechless," Patek said, pausing. "It goes to show you're not promised tomorrow."