Frazier leaves program in black
Audit finds UH athletics solvent but fragile
STORY SUMMARY »
Just after Herman Frazier became University of Hawaii athletic director in 2002, his department ended the fiscal year with a $2.4 million loss.
Sports Money
The UH athletic department closed its books in the black for the second straight year after three years of losses:

2006-07: $68,325

2005-06: $7,483

2004-05: -$93,000

2003-04: -$545,000

2002-03: -$2.4 million

Source: University of Hawaii
Despite his ouster amid criticism about poor sports facilities and the loss of a star football coach, Frazier was apparently able to turn around years of red ink in the athletic department, which finished with a surplus for the past two years.
By keeping the department's finances in the black for two straight years and repaying UH a $1 million loan, Frazier is entitled to a $15,000 bonus, according to his contract.
But Ben Yee, vice president of Na Koa, the UH Warriors football booster club, said Frazier's inability to fix sports facilities and keep coach June Jones overshadows his successes.
"To get out of the red is good," he said. "That's interesting ... but nothing has been done to improve the facilities."
---
FULL STORY »
Herman Frazier, ousted Tuesday as University of Hawaii athletic director, apparently earned a $15,000 bonus for keeping sports finances in the black for two straight years and paying back a $1 million loan to the school.
The athletic department made $68,325 in the 2006-07 fiscal year, according to a draft audit being presented today to the UH Board of Regents. In 2005-06 the department made a $7,483 profit, reversing years of red ink. In Frazier's first full fiscal year as athletic director in 2002-03, the department lost $2.4 million.
The 50-page audit by Accuity LLP praises UH's athletic department for post-season tournaments, coaches and player awards, increased ticket sales, TV royalties and private gifts last year.
It shows the football program's revenue at a little more than $400,000 after expenses.
Total sports revenue for fiscal year 2006-07 was $26,787,959, with $26,719,634 in expenses.
But the report, which the Star-Bulletin obtained through a public-records request, warns that the department's "financial condition is still very fragile."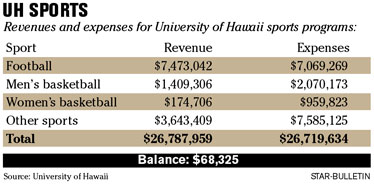 It found problems with the department's monitoring of some donations from booster clubs, potential for unrecorded ticket office revenue, and discovered a "human error" that caused former star football coach June Jones to be underpaid by $10,000 in the 2006 fiscal year. Jones has since been compensated for that amount, according to the audit.
Despite the financial boost under his watch, UH administrators announced on Tuesday an agreement to buy out Frazier's contract for $312,510.
The buyout came a day after the school lost Jones to Southern Methodist University and in the wake of months of criticism directed at Frazier, including his decision to turn away Sugar Bowl tickets intended for UH fans, last year's incomplete football schedule, the messy departure of former basketball coach Riley Wallace and the slow hiring of Bob Nash to replace Wallace.
Under Frazier, the athletic department also reimbursed the university on a $1 million loan it took in 2003 when it was operating deep in the red.
A phone message seeking comment from Frazier was not returned yesterday.
Acting UH athletic director Carl Clapp said he would reserve comment on the audit until it is presented to the regents.
"We want to build on our positives, and we are looking forward to meeting with the Board of Regents about it," he said.
Meanwhile, Jones will have to pay UH $400,008 -- half of his annual salary -- "in liquidated damages" for leaving the school six months before his term ended, according to his contract.
"We are sure that June will owe up to his contractual obligations," said university spokeswoman Carolyn Tanaka.