93-year-old is first traffic death of year
Chung Rak Ha is in a crosswalk when he is hit by a pickup
The island's first traffic fatality of the year underscores the Honolulu Police Department's continued concern for senior pedestrians.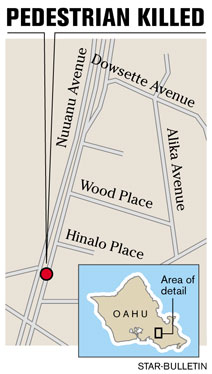 Chung Rak Ha, 93, died early yesterday after he was hit Wednesday evening by a pickup truck.
"We're asking ourselves what we can do to serve and protect as our community gets older," said Police Chief Boisse Correa.
Ha was in a marked crosswalk on Pali Highway just north of Dowsett Avenue at 6:25 p.m. Wednesday when he was hit by a pickup traveling toward Kailua. It was a rainy evening and the road was wet.
The driver, a 47-year-old Kailua man, apparently tried to slow down but was unable to dodge the victim.
Ha was transported to the Queen's Medical Center in serious condition and was pronounced dead at 1:30 yesterday morning, emergency officials said. His family declined to comment yesterday.
Correa said the safety of senior pedestrians is an ongoing concern. Last year saw 10 pedestrian accidents in the first 10 weeks. Several of the victims were seniors.
In response, the department launched an aggressive pedestrian-safety campaign that focused on educating and citing both pedestrians and drivers.
The five-month total of citations during the campaign was more than 4,000, double the number of tickets in 2006. There were only three more pedestrian deaths between March, when the campaign began, and August.
Correa said the department is trying to come up with more programs to protect senior citizens.
Police Lt. Jerry Wojcik, the architect of last year's campaign, said it is too early now to say how they will approach it. Wojcik stopped short of crediting the campaign for the drop in pedestrian fatalities but did say he saw driving behavior improve.
"It did make a difference in the respect that people were paying attention more," he said. "Eventually there were less violations. Certainly there were other factors. The publicity definitely helped."
Driver dies after car hits utility pole
A 77-year-old woman became Oahu's second traffic fatality yesterday, as well as for the year.

At 8:55 a.m. yesterday the woman, driving a 1989 Toyota sedan, was making a left turn out from Kilaha Place onto North Road in Ewa Beach when she lost control of her vehicle and struck a utility pole.

The woman, identified last night as Julia Gomes of Ewa Beach, was taken to the Queen's Medical Center in critical condition. She was pronounced dead at 1:31 p.m.

Police said it is not yet known if speed, drugs or alcohol were factors. There were no Oahu traffic fatalities at this time last year.