| | |
| --- | --- |
| | Island Mele |
---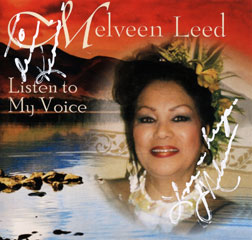 "Listen to My Voice"
Melveen Leed
(Tidal Wave Entertainment)
One of Melveen Leed's biggest hits came relatively early in her career when she recorded an English version of John K. Almeida's 1915-vintage hymn, "Iesu Me Ke Kanaka Waiwai." No one interpreted the song like Leed, and her version remains one of the most popular and best known. Leed has included a Christian classic or two on several of her albums over the years, but she's placing her faith front and center with this economically packaged album. It's the first on her new record label and makes her the instant front-runner for Best Religious Album at the 2008 Na Hoku Hanohano Awards.
In a nutshell: Leed sings with her unique blend of power, passion and finesse. The instrumentation sounds like a one-woman project with Leed on electric keyboards and synth tracks, but it suffices, although it would be great to hear Leed do some of these songs with a real church organ, and others with a full Hawaiian choir.
Leed delivers her message of faith and hope in three types of songs: classics by world-class composers or lyricists, Scripture that she's set to an original melody, and wholly original creations. In the latter she expresses her love for Christ, decries what she sees as the banishment of Jesus (and prayer) from schools and describes how her faith sustains her in bad times. With "A Christmas Love to Share," she says that Jesus is the reason for the season.
Leed draws on her Hawaiian heritage with a stirring bilingual rendition of "How Great Thou Art" that adds Albert Poai Nahale-a's Hawaiian translation to the original English lyrics. She does a beautiful job with "Amazing Grace" as well.
Tidal Wave Entertainment
P.O. Box 235109
Honolulu, HI 96823
---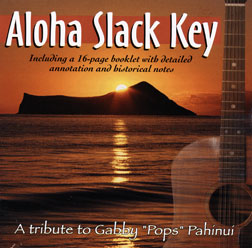 "Aloha Slack Key: A Tribute to
Gabby 'Pops' Pahinui"
Various artists
(Hula)
This isn't the first tribute album to honor (and capitalize) on the popularity of an iconic artist, but it sets a new standard for any and all that come after.
Gabby "Pops" Pahinui was not a prolific composer, but he was the most influential Hawaiian slack-key guitarist of the 20th century. Therefore, rather than have a bunch of hot young artists redo Pahinui's music in their style, producer "Flip" McDiarmid has collected 10 recordings by artists who were influenced by Pahinui's music and have sought to perpetuate it -- George Kuo, Dwight Kanae, Albert Kaai and Anita Pahinui Nakamura, to name four.
There's also a recording of "Moana Chimes" by Raymond Kane, who was not a student or disciple. His presence fits for reasons explained in the liner notes. McDiarmid also includes a beautiful 1961-vintage recording of Pahinui playing "Nani Wale Lihu'e," "Silver Threads Among the Gold" and "Wai'alae."
Unlike, say, that relatively recent "Everybody Loves Bob Marley" local tribute project, McDiarmid includes all the documentation necessary to make this album a perfect introduction to Pahinui's legacy. It includes an overview of Pahinui's life, short bios of the other artists and the slack-key tunings used on each song.
There are also some nice artistic touches. For instance, the liner notes mention that the album cover shows Manana island (aka Rabbit Island) but leaves it up to you to connect the dots and recall it as the nominal site of Pahinui's Rabbit Island Music Festival.
---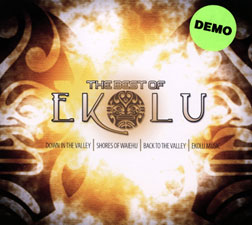 "The Best of Ekolu"
Ekolu
(Waiehu)
Ekolu celebrates 10 years in the music business, four successful island-music albums and a 2005 Hoku Award (best reggae album) with this 19-song retrospective culled apparently at random from their back catalog. It includes "Down in the Valley," the title track of the 1999 album that introduced the original trio (Lukela Keala, Shane Dellomes and George Dela Nux), as well as "Shores of Waiehu" and "Back to the Valley," the title songs of their second and third albums, respectively. All three were -- and are -- good examples of what Ekolu can do as musicians and as composers. The liner notes don't mention why they included the bland Jawaiian remake of "Stuck on You" that was the weakest link in their debut album -- maybe it has sentimental value.
Keala is the trio's primary songwriter and vocalist. His smooth tenor has been the foundation of Ekolu's sound from the beginning; it serves the group well on pop songs and contemporary Christian music alike. "Mistah Offisah," from their 2005 album, "Ekolu Music," still stands out for the Keala's lyric message that it is possible to enjoy reggae music without being stoned!
To give credit where it's due, Makapu Ho'opili replaced Dela Nux after the first album was released, and Ekolu has gone from success to success through its first decade. Their next decade should be equally productive.
John Berger
, who has covered the local entertainment scene since 1972, writes reviews of recordings produced by Hawaii artists. See the Star-Bulletin's Today section on Fridays for the latest reviews. Reach John Berger at
jberger@starbulletin.com
.