Oahu celebrates 2008
Fireworks light up the sky and blast the eardrums
Individually or in groups, fireworks enthusiasts got their fill last night with a variety of fireworks despite heavy downpours in some Oahu neighborhoods.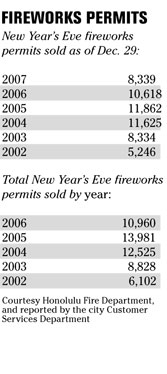 The occasional thundering boom echoed across Palolo Valley, but for the most part, pretty, colorful showers of light from aerials and smoke from paperless firecrackers dominated the night sky.
Fire officials said there were seven minor blazes between noon and 9 p.m. that were likely fireworks-related.
The sale of city permits for firecrackers dropped nearly 22 percent to 8,339 as of Saturday, compared with 10,618 through Dec. 29, 2006. But the use of illegal fireworks continued last night.
Police Maj. Kurt Kendro of Kalihi announced yesterday that police confiscated 4,300 pounds of illegal aerials from a Palolo house and had arrested a 24-year-old man at the home.
The bulk of the fireworks were in a storage room connected to the house on the 1500 block of Palolo Avenue, and 700 pounds were stored in a bedroom.
"You get over two tons of fireworks, if one of those ignited, it could have caused a catastrophic event or a serious explosion that could have leveled several houses in that neighborhood," Kendro said. "He placed that community at risk with all those fireworks in that house."
He said he suspects the fireworks are coming by container ships throughout the course of the year, and believes law enforcement on the local, state and federal levels must work year-round to eliminate shipments of illegal fireworks from reaching the streets. He emphasized the need for the public to report the use and sale of illegal fireworks.
Police from the Kalihi district received a tip and worked with the Crime Reduction Unit to arrest the man Thursday night.
At another home last night in Palolo, about 100 family members gathered to celebrate New Year's Eve with $2,000 worth of fireworks, including aerials from a "secret" source, said Reid, 38, who asked that his last name not be used.
Included in the show was the "Shock Wave," which cost $175 and features a 25-shot series of blasts about 100 feet high that ends with a simple small burst of light.
Reid's family partied under an enormous tent in the back yard while others were inside enjoying oxtail stew, beef stew, laulau, garlic shrimp, kalua pig and ribs.
Leanne Yaji, 28, held the youngest attendee at the party in her arms: 15-month Ikaika Viela, wearing a knit beanie cap and flannel shirt. Yaji said she wants her son to grow up with the fireworks tradition just as she did. "He likes to see the colors. He doesn't like the noise."