---
FAST FACTS HAWAII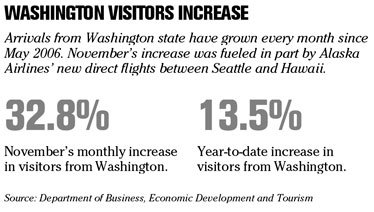 ---
Bankruptcies total 1,380 in 2007
Statewide bankruptcy filings ended 2007 up 44.5 percent as 1,380 individuals or companies sought financial protection.
The number of filings -- although up from 955 last year -- was the second-lowest total since the state hit an all-time high of 5,813 in 1998.
Chapter 7 liquidation bankruptcies -- the most common filing -- jumped 39.1 percent to 1,117 from 803 in 2006. Chapter 7 filings typically wipe out debt except for such items as taxes, alimony and child support. Last year there were 803 Chapter 7 cases.
Chapter 11 bankruptcies, mostly used to reorganize businesses, totaled 15, nearly double the eight from 2006. Chapter 13 filings -- which typically allow consumers to stop a foreclosure and consolidate debt -- totaled 247, up 73.9 percent from 142 last year.
Hawaiian CEO gets extension
Mark Dunkerley will stay on as president and CEO of Hawaiian Airlines until 2010, after his current contract was extended by more than two years, according to a Securities and Exchange Commission filing released yesterday.
The contract, which had been set to run through Aug. 18, 2008, has been extended to Nov. 8, 2010. Dunkerley's base salary is also increasing from $550,000 to $580,000.
In addition, Dunkerley was also granted stock options to buy 225,000 shares of parent Hawaiian Holdings Inc. equal to the market value on the date of the grant. In 2006, Dunkerley earned total compensation of $2.5 million, including option awards and bonuses
BRIEF CASE
MAKING UP.
Internet phone-service provider Vonage Holdings Corp. resolved a patent dispute with Nortel Networks Corp. that threatened to shut down some of Vonage's calling features. The companies will each license three patents to the other.
JOINING THE CLUB. Cyprus and Malta became the latest countries to embrace the euro, increasing membership of Europe's common currency to 15.
LOOSENING CONTROLS. Beijing is easing a ban on foreign investment in the securities industry. Total foreign ownership of any firm is limited to 25 percent -- 20 percent for any one investor -- the China Securities Regulatory Commission said.
---
BUSINESS PULSE