---
FAST FACTS HAWAII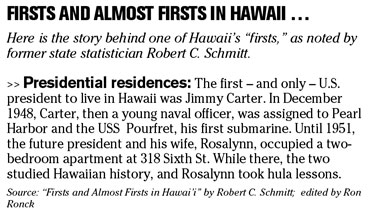 ---
NATION
Flirting up the corporate ladder
Outplacement consultancy
Challenger, Gray & Christmas Inc.
recently released a list of what it called 2007's most unbelievable workplace stories. Some highlights:
» Workers in Scotland lined up to take classes which encouraged flirting to get ahead in their careers. Class exercises included purring like a kitten and dancing like Christina Aguilera and Justin Timberlake.
» A new tactic to shame delinquent policemen in Thailand who commit misdemeanors, such as littering or coming to work late, requires them to stay in the office all day and sport an armband featuring a smiling Hello Kitty surrounded by hearts.
» An Iowa woman was fired in January for misuse of company time for keeping a diary about how she avoids work. Some of the entries detailed her efforts to fool management into believing she was hard at work, usually by furiously typing her journal.
Teens should take Ethics 101
The next generation to enter the work force may be more likely to cheat and lie than their more senior colleagues, according to a recent survey.
Three-quarters of teenagers believe they are fully prepared to make ethical decisions, yet nearly 40 percent also believe lying, cheating or violence are necessary to succeed, according to the survey conducted by Junior Achievement Worldwide and Deloitte & Touche USA LLP.
More than half of those teens said their personal desire to succeed is the rationale. There were 23 percent who said violence toward another person is acceptable on some level. The number of teens willing to bend the rules has more than doubled since the survey was given in 2003, according to Ainar Aijala, chairman of Junior Achievement Worldwide and global managing partner at Deloitte.
"Kids are seeing evidence of successful politicians, professional athletes, religious leaders, lawyers and business professionals being dishonest -- people they also see as their role models," Aijala said.
The survey was conducted online with a sample of 725 teens age 13 to 18.
Loss of customer data increasing
Losses of confidential customer data like the one reported earlier this year by the
T.J. Maxx
and
Marshall's
retail chains may be more commonplace than thought.
About 85 percent of privacy and security professionals for companies in North America acknowledged having at least one reportable loss or exposure of personal information during the last 12 months, according to a recent survey. Of those, 63 percent said they have had multiple data breaches in the same period.
"Data loss and theft is a pervasive problem in all organizations, including governmental," said Larry Ponemon, chairman and founder of the Ponemon Institute, which conducted the survey with Deloitte & Touche LLP.
It is hard to say whether the data breach rate has increased, because companies have only been recently been required by law to detect or disclose lost data, Ponemon said.
"Companies are collecting information in more remote places, creating the perfect storm for data breaches," he said. "We definitely see that this is not a decreasing trend."
WORLD
Panasonic to unveil 150-inch TV
If you're the sort of shopper who has been looking forward to braving the crowds to score a new big-screen television soon, you may want to consider holding off for just a little while longer.
Especially if you're the kind of person who begins to salivate at the mention of something like a 150-inch television.
Japan's Matsushita Electric Industrial Co. Ltd., maker of the Panasonic brand, is preparing to unveil a whopping 150-inch high-definition plasma TV next month at the Consumer Electronics Show in Las Vegas, according to a report in the Japanese newspaper The Daily Yomiuri.
If true, it would be the largest commercially available HDTV in the world. The new living room dominator will measure more than 11 feet wide and 6 feet high.
In 2006, Panasonic introduced a 103-inch plasma HDTV, which is still the largest commercially available.
There is no word on just how much the new TV will cost, but considering the 103-inch model will run about $50,000, chances are the extra 42 inches will be costly.
---
BUSINESS PULSE