Oceanic will raise cable rates on April 1
Oceanic Time Warner Cable is raising rates statewide for its basic cable and most popular standard cable service.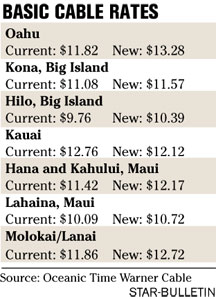 Rates will increase $1.90 statewide -- or 4.4 percent -- to $45.50 from $43.60 per month for about 250,000 subscribers of standard cable, which includes 76 channels. Oceanic has more than 400,000 subscribers.
Another 30,000 subscribers who take only basic cable service will see rate changes vary by island.
The company also is planning a 10-cent-per-month increase on its digital box and remote control fee, but prices for digital phone, Road Runner, high-definition cable and digital video recording services are not affected.
The new rates will take effect April 1, said Alan Pollock, Oceanic Time Warner Cable vice president of marketing.
The new rates reflect Oceanic's higher programming costs, Pollock said.
"The alternative to raising rates is dropping channels," he said.