| | |
| --- | --- |
| | Island Mele |
---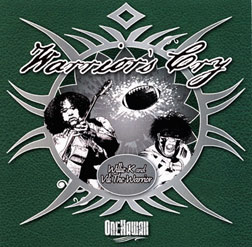 "Warrior's Cry"
Willie K and Vili The Warrior
(One Hawaii)
Willie K is the composer and co-producer (with Warren Wyatt of WorldSound) of this timely souvenir of the University of Hawaii Warriors' undefeated season, WAC championship and BSC bowl invite. Few guitarists in Hawaii can rock harder than Willie when he feels like rocking, and his performance here on vocals and guitar proves that point once again.
Vili the Warrior adds the cheers and taunts that have made him an ico. Robert Kekaula is heard calling key plays. The voice-overs from this year's season will quickly become dated, but the song should be a Warriors' fight song for years to come.
Note: "Warrior's Cry" is available at www.onehawaiimusic.com; limited numbers are also available at Willie's performances and Vili's personal appearances.
---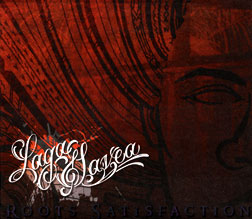 "Roots Satisfaction"
Laga Savea
(Konishiki Power Hawaii)
Laga Savea's first full-length album follows low-profile appearances on several Jawaiian compilations. This is a big step forward and a fine showcase. Savea specializes in world reggae rather than Jawaiian or Jamoan music, but almost every song would fit on island-music radio stations. With George "Fiji" Veikoso, a long-time mentor and producer, appearing as a guest on three selections, there are strong undercurrents of Oceanic soul as well.
Savea and his musical aiga (family) sell the project from the first song. "Roots Satisfaction" sets the theme and establishes the strength of Savea, his studio musicians and guests. The interplay between the horns and the rhythm section is tight and on point throughout. The smooth harmonies of his backing vocalists are another asset.
Several songs stand out. "Honi Honi" is a nod to Hawaii's long-standing hapa-haole tradition. "Nanakuli" also honors a Hawaiian tradition in being a "place song" -- in this case an expression of Savea's love for his home district. The catch phrase, "I am proud to be from Nanakuli," would be a perfect theme for a public-awareness campaign.
"All I Really Want" stands out with a series of jarring lyric images that sound threatening rather than romantic. The lyrics of several other songs strayfrom the standard principles of rhythm, rhyme and meter but without causing any confusion about the writer's intent.
---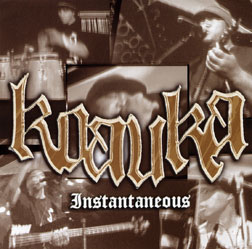 "Instantaneous"
Koauka
(Out of the Blue Entertainment)
The history of Hawaiian music since 1778 shows one non-Hawaiian idea after another being adopted and adapted by Hawaiian musicians until something distinctively Hawaiian was created. From the guitar came ki ho'alu and the Hawaiian steel guitar, from a Portuguese instrument known as the braguinha or the machete came the ukulele, and so on.
Keep in mind that the Brothers Cazimero were criticized as being too radical in the early 1970s but are now considered "traditional" and there's no question that the time will come when some imaginative local artist will adopt and adapt reggae music in a way that makes it something that can be described as "Hawaiian" and accepted as such.
In the meantime, however, Kaouka is perpetuating the familiar sound and conventions of mainstream Jawaiian music with this collection of 10 songs. Almost all are perfect for play on local island-music radio. Composers credits aren't included, but the credit for "Could You Be Loved" belongs to Bob Marley; the others sound like the work of seasoned local writers.
A burst of percussion opens the album on a catchy note. Most of the songs that follow also have the uptempo vibe and crisp ukulele licks typical of the genre. "Could We Be Lovers" contains a reference to Heineken that should get the group a promotional deal with the local distributor of the ever-popular beverage. Several other selections reflect the continuing influence of Shaggy and Rayvon as inspirations for a generation of Jawaiian vocalists.
"Wish We Never Met" is a welcome change of pace. The unidentified singer performs without affecting an artificial accent, and the lyrics express the pain of lost love in mature and insightful style.
John Berger
, who has covered the local entertainment scene since 1972, writes reviews of recordings produced by Hawaii artists. See the Star-Bulletin's Today section on Fridays for the latest reviews. Reach John Berger at
jberger@starbulletin.com
.