Big Isle to gain 1,200 affordable dwellings
The project will add units to Waikoloa Village for West Hawaii resort workers
WAIKOLOA » Groundbreaking is scheduled Saturday for a residential project that will add 1,200 affordable homes for West Hawaii resort employees and increase the size of Waikoloa Village by 50 percent.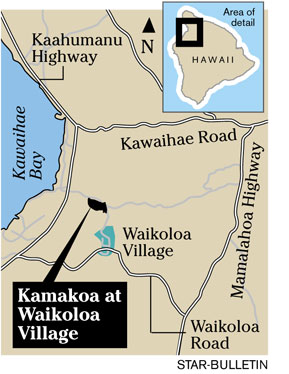 The Kamakoa at Waikoloa project is being built on 279 acres of county-owned land by Waikoloa Workforce Housing LLC, a development entity of the nonprofit Hawaii Island Housing Trust.
UniDev Hawaii LLC, a branch of a nationwide company experienced in building government housing, is assisting.
County Planning Director Chris Yuen has said West Hawaii is short up to 1,000 workers, partly because there is no housing for them.
Voters were almost unanimous about the need for work-force housing during the 2006 election campaign, said County Council Chairman Pete Hoffmann, whose district includes Waikoloa.
County buses are "packed" with employees leaving from areas up to 90 miles away at 4 a.m., he said.
About two-thirds of the units will be for sale at prices affordable to people earning up to 140 percent of the Big Island median income, UniDev said. In 2006 the 140 percent figure was $77,420 for a family of four. The remainder of the units would be for rent.
Home sales will start in mid-2008, and houses will be ready for occupancy in 2009, UniDev said. The first phase will be 426 units, of which 308 will be for sale and 118 for rent.
Full build-out could take up to seven years.
Waikoloa Village is built along a single 1.6-mile main street, Paniolo Avenue. Kamakoa will be constructed on the seaward side of a 1-mile northward extension of Paniolo being built for an unrelated development, Hoffmann said.
The village now has 2,600 homes. The 1,200 in Kamakoa, plus houses in other projects, will more than double the village size.
Kamakoa will provide a site for a new elementary school. The town has only one now.
The project will also include a community center -- there currently is none -- a day-care center and senior housing, Hoffmann said.
Resort workers will receive highest priority among applicants, followed by government employees. Neither state nor federal anti-discrimination laws ban employment preferences, Hoffmann said.