---
KEIKI KALIKIMAKA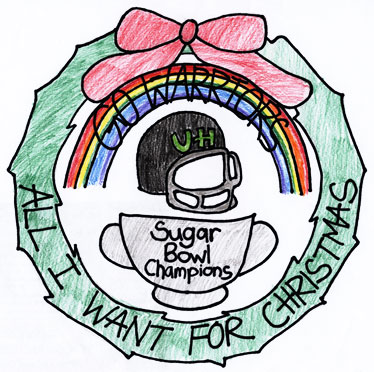 ---
Da Night Befo' Creesmess
Comedian Paul Ogata issues his own version of the classic "The Night Before Christmas" every year. The 2007 version:
Was da night befo' Creesmess,
A big night, we all knew it.
Was more big than the okole
On Jennifer Love Hewitt.
I heard noises outside,
And I wonder what wen' happen,
Someone was shouting bad words
I thought "Might be Dog Chapman."
So I ran out to see
Who it was at this late hour.
Was one fat man and one elf.
(Or was that Tad Fujikawa?)
The fat guy was Santa
And the bad words he was firing,
Was because someone just stole
All his sleigh's copper wiring.
And they also ripped off
His plasma screens and neon lights.
(His sleigh just took first place
At Hot Import Nights.)
It could hold tons of presents
So our holidays would be merry.
His sleigh was almost as big
As the Hawaii SuperFerry.
But to make sure that his sleigh
Wouldn't upset anybody,
Even Santa had to do an
Environmental impact study.
He came bearing presents
Just like the Three Wise Men.
For Colt Brennan, what he deserved to get:
The trophy called Heisman.
For the rest of the Warriors
Led by quick Davone Bess,
Just three simple letters.
B, C and S.
A book of names was
Among the gifts he was tossing,
So the National Weather Service
Could pick a better one than "Flossie."
To save money, he cut back
On presents that he gave.
Which was real easy this year
Since plenny people wen' misbehave.
Had some public school teachers
Who got caught with marijuana.
They was almost as scandalous
As that buggah Bob Awana.
For Jon Riki Karamatsu
And others just like him,
A free ride! (From the taxi,
Not from Daniel Dae Kim.)
He pointed at me
And said, "So, what you like?"
I said, "New episodes of 'Lost'?"
He said, "Stupid, get writers strike."
But he said, "This will help you lose weight."
I said, "Oh, what you got for me?
"Membership to one gym?"
He said, "More betta, one Nintendo Wii!"
He stopped and he turned
As he was leaving my home,
And shouted, "But, eh, no play so much,
Or you going get carpal tunnel syndrome!"
As Santa was driving,
Off into the night,
He said "Mele Kalikimaka ...
And to everyone
... Au-right!"