| | |
| --- | --- |
| | Wood Craft |
---
Tori Richard Christmas card is fun-filled collector's item
My favorite Christmas card thus far came from Tori Richard. It's about 6 by 9 inches and opens up to double that size. Three polar bears are standing tall on their hind legs outside the home of Mr. and Mrs. Claus at the North Pole, asking: "Where's
Santa
?"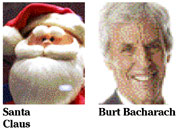 Open the card up and it will take awhile to spot Santa in shorts and a red aloha shirt -- from Tori Richard, no doubt -- among about 100 characters and objects in front of a Tori Richard Waikiki beachfront store. Pictured are surfers and paddlers in the ocean along with something that looks like the Loch Ness Monster, a gorilla floating on a big tire tube, a mermaid in a diver's arms, a pirate climbing up a sea wall, a samurai warrior protecting a sand castle and a sumo wrestler nearby a volleyball player losing his shorts on a kill.
Marilyn Monroe
and
Elvis
are on the deck and a spy is hiding behind a coconut tree. And there's Santa on the sand near a convict coming out of an escape hole. It's the work of
Malia Wisch
, the company's talented
graphic designer ...
Julie Honda held a luncheon for a group of well-known women at Orchids recently. Attending were Jean Ariyoshi and Vicki Cayetano, wives of former governors George Ariyoshi and Ben Cayetano. Others there were Carole Kai, Kika Matsumoto, Patricia Lee, Trish O'Neil and Barbara Ching ... Legendary composer-songwriter Burt Bacharach and guest singers get the 2008 Symphony Pops season rolling Jan. 4 and 5 at the Concert Hall, 8 p.m. ...
Fitness awards presented at Clark Hatch
Roy Yempuku
and
Cherryann Slagel
were named 2007's Mr. and Ms. Fitness at
Clark Hatch
Fitness Center's 31st annual awards party this month at the center. Other top awards for men and women were:
Joe Gronwald
and
Yoko Keller
, most improved;
Bernie Bays
and
Miho Suzuki
, strength, and
John Mackey
and
Georgianne Senda
, aerobics. Gym member
Kale Imua
and
Wayne Borje
played music. Food and prizes were donated by members
Dave Heenan, Robert Spicer, Sharyn Klafehn
, and Aloha Sushi, Jun Bo eatery, McCully Bike Shop, center owner
Bill Monsen
and the center's massage experts ... I will be on vacation Monday through Jan. 1. The next Wood Craft will appear Saturday, Jan. 5. Happy holidays! ...
Ben Wood
, who sold the Star-Bulletin in the streets of downtown Honolulu during World War II, writes of people, places and things in our Hawaii. E-mail him at
bwood@starbulletin.com