Hawaii's unemployment rate edges up slightly
The seasonally adjusted unemployment rate crept up ever so slightly to 2.9 percent in November compared to 2.7 percent in October, according to the state Department of Labor and Industrial Relations.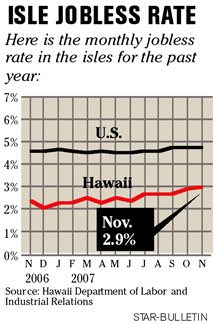 That marks nearly three years that Hawaii has maintained an unemployment rate at 3 percent or lower. In contrast, the national seasonally adjusted unemployment rate remains stable compared to October at 4.7 percent.
The November increase pushed Hawaii out of second place in the state rankings. Idaho continued to have the lowest jobless rate in the nation, 2.7 percent, but Utah and South Dakota tied for second place in November at 2.8 percent. Hawaii's 2.0 percent rate tied it for third with Wyoming.
"Since October 2004, Hawaii's extraordinary employment growth has seen our unemployment rate drop below 3 percent reaching an historical low of 1.6 percent in December of 2006," said Darwin L.D. Ching, director of Labor and Industrial Relations. "Hawaii's private sector continues to create employment opportunities, maintaining exceptional employment numbers and low unemployment rates."
Out of a statewide labor force of 647,800, a total of 18,700 were unemployed in November.
The number of jobs dropped in education and in trade, transportation and utilities, but grew substantially in construction.
Special trade contractors have generated much of the growth in the construction industry, which posted the largest monthly job gain among all the sectors with 300 more jobs. Year over year, the construction industry grew by 1,800 jobs.