Property values take $800M dip
Oahu homeowners could see a decrease in property tax bills if the rates stay the same
STORY SUMMARY »
Oahu property values dropped by $800 million according to the city's 2008 real property assessments.
That could mean lower property tax bills for most homeowners if property rates stay the same, but lower tax revenue would also force the city to cut its budget and possibly cut services.
On average, 2008 residential property values islandwide dropped 2.7 percent for existing homes without improvements. The figure does not include new homes or existing homes with additions or alterations.
Property tax bills are based on the assessments and the tax rate. The city administration and the City Council have yet to determine tax rates.
The city started mailing assessment notices to nearly 281,000 Oahu property owners this week.
The city attributes the decreased property values primarily to lower residential sale prices.
Hotel and resort property values are also down in 2008, while assessments for commercial and industrial properties are up.
The overall valuation of all real property on Oahu is $190.7 billion for 2008, versus this year's $191.5 billion.
Average residential property values are down on all parts of Oahu except in urban Honolulu between Nuuanu and Salt Lake.
Councilman Rod Tam, who represents part of that area, said it has experienced a number of sales in the past year.
The area between Kaaawa and Kahuku saw the largest drop in average property values, 7 percent.
STAR-BULLETIN
---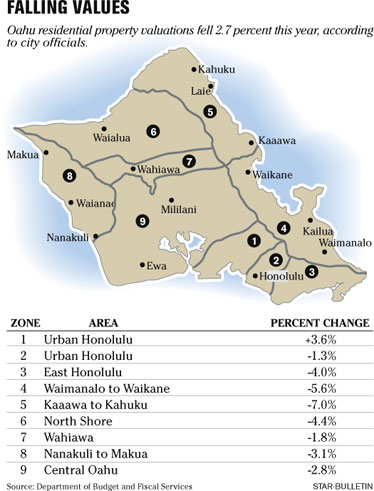 ---
FULL STORY »
Property values of most Oahu homes are lower than they were a year ago, according to 2008 real property assessment notice mailed to property owners this week.
The city uses the assessments to calculate property tax bills once the administration and the City Council determine the property tax rate.
With recently awarded annual pay raises for city workers of 4 to 6 percent, the lower assessments might force the city to cut the budget or increase property tax rates.
"I certainly hope we don't have to (increase taxes)," said Councilman Todd Apo, Budget Committee chairman.
The city's blue-collar workers are scheduled to receive a 1.16 percent pay raise in March followed by a 4 percent increase in July. Also in July, white-collar workers are scheduled to receive a 4 percent pay raise, firefighters will get a 5 percent increase and police are due a 6 percent increase.
Not counting new parcels and improvements on existing properties, the value of all residential property on Oahu decreased 2.7 percent. The values of hotel and resort properties, not including new parcels, additions and alterations, dropped by 4.9 percent.
However, the values of commercial and industrial properties increased 4.0 percent and 2.0 percent, respectively.
The assessed valuation of all real property on Oahu for 2008 is $190.7 billion. That is $800 million, or 0.4 percent less, than it was for 2007. The city says lower residential sale prices are primarily responsible for the lower valuation.
That decrease was only partially offset by the construction of new houses, condominiums, commercial and industrial projects and other buildings and improvements to existing ones.
Changes in next year's residential property assessments range from a 7 percent average decrease for homes between Kaaawa and Kahuku to a 3.6 percent average increase for homes in urban Honolulu between Nuuanu and Salt Lake, the only area that saw an increase in home property values.
"There's been a lot of sales in the area," said Councilman Rod Tam.
Tam does not think the method the city uses to calculate property values for tax purposes is fair, because it includes market value.
"We need to replace that because the market value fluctuates unpredictably," which he said is, "often based on greed."
Property owners who want to dispute their assessments have until Jan. 15 to file an appeal.