---
FAST FACTS HAWAII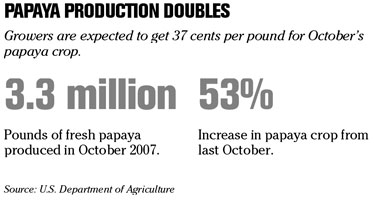 ---
Airport revenue bonds upgraded
The state's airport system revenue bonds credit rating has been upgraded to "A2" from "A3" by Moody's Investors Service.
The upgrade is based on the essentiality of air travel to and between the islands, strong historical financial performance of Hawaii's airports, improved enplanment levels and consistent demand, and new airline lease agreements which will enhance revenue.
Hawaii's airport revenue bonds are also rated "A" by Fitch Ratings and "A-" by Standard and Poor's Ratings Service. An "A" is comparable to "A2" and an "A-" is comparable to "A3."
Castle Resorts adds Queen Kapiolani
Castle Resorts & Hotels
, a hotel chain with an ambitious growth plan, has expanded its Hawaii presence by picking up the management contract for the Queen Kapiolani Hotel. The company now controls operations at five Waikiki hotels and manages a portfolio of 26 hotels and condominium resorts throughout Hawaii, Micronesia, New Zealand and Thailand.
"The addition of Queen Kapiolani Hotel to our portfolio follows our strategic growth plan of increasing our inventory both internationally and in Hawaii," said Alan Mattson, president and chief operating officer of Castle Resorts & Hotels. "Our presence in Waikiki has more than doubled in the past year with the addition of over 1,300 rooms to our Waikiki inventory during 2007."
Brief case
Solar energy
An ambitious proposal by San Francisco would greatly expand the city's solar-power use. Businesses would be eligible for rebates of up to $10,000 and residents would receive $3,000 to $5,000 off the cost of installing solar panels. The city would underwrite the cost of the loans, which commercial and residential owners would be expected to pay back through annual tax assessments on their properties.
New hires / Promotions
» The Gas Co. has named
Jeffrey Kissel
as president and chief executive officer effective Dec. 17. He previously served as president and CEO of Safe Renewables Corp. in Texas. He has more than 20 years experience in the utility, petroleum, engineering and construction industries, with the last 10 years in environmental engineering, renewable energy and environmental remediation. He also serves as a director and chairman of the ML Macadamia Orchards audit committee.
» HTH Corp. has promoted John Lopianetzky to general manager of the Pacific Beach Hotel from director of food and beverage. He previously served as a chef instructor at Kapiolani Community College's Culinary Institute of the Pacific, corporate executive chef for HTH Corp. and sous chef for Nick's Fishmarket. He has also served as regional general manager at Ruth's Chris Steak House in Lahaina, regional food and beverage director at Hawaiian Hotels & Resorts and numerous positions in the restaurant industries in Chicago, Arizona and California.
» Outrigger Enterprises Group has promoted Nancy Daniels to director of public relations from public relations manager. She will oversee day-to-day operations and external communications including media and community relations, special promotions and events. She has served the company since 1995 and previously served as public relations manager for the former Kahala Hilton Hotel and positions with Inter-Continental Hotels Corp. and Pan American World Airways.
» Allied Builders System has announced the following promotions: Gary Oda has been promoted to executive vice president and chief operating officer. He joined the firm in 2001 as vice president and chief financial officer and has also served as vice president and controller at Kahala Mandarin Oriental Hawaii. Gary Grimes has been promoted to vice president of operations. He will oversee all pre-construction and construction activities. Justin Izumi has been promoted to chief estimator. He has served the company for eight years as project manager and estimator.
» Hawaiian Airlines has announced the following promotions: Radford Park has been promoted to senior manager of customer experience from senior manager of customer service. He is responsible for the operational staff of customer service and ramp services, which include strategic planning, project management and inter-department collaboration. He has served the company since 1984. Kina Sai has been promoted to senior manager of customer experience from manager of airport quality assurance. She is responsible for above-the-wing operations, with emphasis on first-rate customer service at check-in, the boarding gates and baggage claim. She has served the company since 1998. Scott Witter has been promoted to senior manager of customer experience from manager of productivity. He is responsible for below-the-wing operations with emphasis on ramp and baggage-handling services. He has served the company since 1985.


---
BUSINESS PULSE