No sign of Mauna Kea hiker
STORY SUMMARY »
Two miles high, rescue teams will search again today for a Michigan man last seen on Mauna Kea just before a blizzard hit.
About 50 rescue personnel searched for the hiker yesterday on foot and with all-terrain vehicles between 8,000 to 13,400 feet in altitude.
A federal helicopter and Hawaii County Fire Department helicopter checked difficult-to-reach places, but turned back after fog cut visibility. Temperatures on the mountain were about 55 degrees yesterday afternoon.
Dog teams also took part in the search over the weekend.
Missing since Wednesday on a planned hike along a trail to the summit is Brian Murphy, 67, of Detroit.
STAR-BULLETIN
---
FULL STORY »
Big Island rescue teams will search again today for a missing Michigan man who went hiking on Mauna Kea just before a snowstorm five days ago and hasn't been seen since.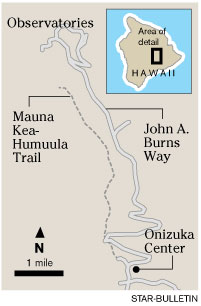 Rescuers have yet to find any clothing, tracks, or other signs of the man. Police canine teams aided in the search Saturday, but didn't pick up any clues, firefighters said.
The Associated Press identified the man as Brian Murphy, 67, of Detroit. Murphy, a father of two and grandfather of five, was declared missing at 8 p.m. Wednesday.
"He's definitely lost," said Hawaii Fire Department incident commander Capt. Grant Kojima. "We're not sure if he's still able to walk and the weather at night gets to freezing temperatures."
During the fourth day of the search yesterday, 52 personnel assisted, including personnel from several state agencies, the Mauna Kea ranger force, the FBI, the Drug Enforcement Administration and the Pohakuloa Training Area. About five miles have been searched on foot from the 8,000-foot elevation to 13,400 feet. About 30 square miles have been scanned by air from 6,300 to 11,000 feet, Kojima said.
Rescuers used all-terrain vehicles, two helicopters and several other vehicles. In the morning, skies were clear with light winds and temperatures in the 60s. By afternoon, the temperature dropped to the low 50s, while fog reduced visibility to a half-mile. The helicopter crews stopped searching and the search was suspended at about 3:30 p.m.
On Wednesday, Murphy had spoken to a visitor center employee about hiking up the Humuula Trail, a steep footpath that leads toward the 13,796-foot summit.
A ranger, who was the last person to see Murphy, said Murphy was wearing only a light shirt and slacks -- "street clothes," as Kojima put it.
"He may have had more clothes in his vehicle, but we don't think it was cold-weather gear," he added.
The ranger advised Murphy, who was alone, not to go hiking because of the terrain and the cold weather, Kojima said. Murphy left about noon, leaving his car at the Onizuka Center for visitors at the 9,000-foot level.
"He wanted to hike up towards the summit," Kojima said.
On Wednesday night, the National Weather Service issued a blizzard warning for Mauna Kea's summit. Winds were expected to reach 70 mph. The winds created snowdrifts 10 feet deep and 100 feet long, said National Weather forecaster Tom Birchard.
Rescuers, who believe Murphy might have been injured during a fall, will conclude the search today if no signs of him are found, Kojima said.
"We know where he was last seen and because of the terrain and the weather we don't believe he was able to move very far," Kojima said. "It's more of an intense search rather than a large search."
Police towed Murphy's vehicle and are investigating it. Rescuers don't believe Murphy has left the slopes of the dormant volcano.
A visitor center manager said Mauna Kea Access Road was closed from the visitor center yesterday because of the icy conditions and the search operation.
The search will concentrate today on areas south and west of Mauna Kea Access Road, below the visitor center.
The Associated Press contributed to this report.