Blown over: Heavy winds and rains bring chaos
About 11,000 are still without power as crews continue repairs
Electrical failures continued to plague some Oahu residents after a storm packing high wind and heavy rain swept through the islands Tuesday and yesterday. Problems were reported across the state:
» In Kula, Maui, a wall of floodwater washed a house off its foundation and across Kula Highway and piled mud up against four other houses. A man and a boy were rescued from the roof of the displaced house.
» In parts of the Waianae Coast and other communities, power failures continued this morning as Hawaiian Electric Co. worked into the night to replace at least 36 damaged poles and fix downed lines. Some 11,000 HECO clients remained without power at 9 p.m. yesterday.
» State transportation spokesman Scott Ishikawa reported that highways closed with limited access due to work on electrical lines were Kamehameha Highway outside Wahiawa by Whitmore Village, with a detour via Wilikina Drive; contra-flow lanes on Kamehameha Highway at the Kahuku Sugar Mill; and some lane closures on Farrington Highway in Waianae.
» At least two people were injured by storm-related events, but they were recovering, city officials said. Candles were blamed for small residential fires in Pearl City and Nanakuli.
» The Big Island's Kona Coast was getting pummeled by heavy rain with reported runoff about a foot deep in some spots. Authorities said there was damage but that it was difficult to gauge.
» All but 18 of the state's 286 public schools were expected to be open today. Bad weather and lack of power shut down 90 public schools yesterday, mostly in Leeward Oahu, and numerous private schools.
Strong winds buffet islands
Some of the strongest winds from the storm, according to the National Weather Service:

Makapulapai, Molokai: 72 mph
Wheeler Airfield, Oahu: 68 mph
Kaupo, Maui: 67 mph
Schofield Barracks, Oahu: 63 mph
Waianae Harbor, Oahu: 59 mph
Moloaa Dairy, Kauai: 59 mph
Lanai: 58 mph
Kaneohe Marine Corps Base, Oahu: 58 mph
---
Power failures linger after storm
About 21,000 are still without electricity a day after a big storm enveloped the state
Power failures triggered by a storm that reached Oahu late Tuesday were expected to continue along the Waianae Coast and scattered communities this morning as Hawaiian Electric Co. worked into the night yesterday to replace dozens of damaged poles and fix downed lines.
Wind gusts as strong as 7O mph that rushed through the island cut electricity to at least 45,000 HECO customers, about 15 percent of the company's 293,000 Oahu clients, said spokesman Darren Pai.
As of 10 p.m. about 11,000 customers remained without power.
At least two people were injured by storm-related events, but they were recovering, city officials said. Unattended candles were blamed for small fires in Pearl City and Nanakuli.
All but 18 of the state's 286 public schools were expected to be open today. Bad weather and lack of power shut down 90 public schools, mostly in Leeward Oahu, and numerous private schools yesterday.
The University of Hawaii canceled classes at its Windward, Leeward and Maui community colleges. Hawaii Pacific University's windward Hawaii Loa campus also was closed.
State transportation spokesman Scott Ishikawa reported at 7 last night that Oahu highways still closed or with limited access due to work on electrical lines were Kamehameha Highway outside Wahiawa by Whitmore Village, with a detour via Wilikina Drive; contra-flow lanes on Kamehameha Highway at the Kahuku Sugar Mill; and some lane closures on Farrington Highway in Waianae.
The Honolulu Board of Water Supply urged people to conserve water today because Oahu's water system depends on pumps that require electricity, and when the power is out, reservoirs cannot be refilled.
Leeward and Central Oahu were the hardest hit by outages that began as early as 8 p.m. Tuesday. At 4 p.m. yesterday about 25,000 customers in Wahiawa, Waimanalo, Kailua, Kaneohe, Ewa Beach, North Shore and parts of downtown near Nuuanu Avenue remained without power.
Pai said 100 HECO workers were on the field, but he warned that many customers, mainly on the North Shore and in Nanakuli - where 18 poles fell - would likely wake up today without electricity.
In Kunia two HECO employees helped a man get out of his car after power lines fell on it at about 8:30 a.m.
"He was patient for several hours," said company spokesman Peter Rosegg. "It was determined the line was not energized. But better to find out after, when all were safe and sound."
Earlier, a 40-year-old Hauula man fell from his home's roof at about 4 a.m. while checking out a large leak, said Bryan Cheplic, spokesman for the city's Emergency Services Department. He was scheduled to spend the night at the Queen's Medical Center, where he was listed in stable condition, Cheplic said.
In addition, a soldier hit by a 60-pound pole while erecting a tent at Dillingham Airfield was treated and released from Queen's, Cheplic said.
Meanwhile, the American Red Cross met with eight Windward residents whose homes suffered roof damage, said spokeswoman Maria Lutz.
On the Leeward side, 10 people spent Tuesday night at two Red Cross shelters, which were closed at 11 a.m. yesterday, she said.
By 2 p.m. more than 250 people had called the city to report debris problems, said Lester Chang, director of parks and recreation.
TheBoat will not run today because of continued rough seas. Oahu Transportation Services spokeswoman Michelle Kennedy said the city will decide when the service resumes.
TheBus stopped service for about an hour early yesterday morning, following a 3:45 a.m. lightning strike to a bus in Kaneohe, said Roger Morton, president of OTS, which operates TheBus for the city.
By late afternoon yesterday, all routes were being serviced except 403 on the Waianae Coast. Morton said all routes were expected to run today.
- Star-Bulletin reporter Diana Leone contributed to this report.
If the power goes out
» Leave one light on so you will know when power returns.
» Use flashlights instead of candles or kerosene lamps, which pose fire risks.
» Don't use charcoal or other fossil fuels to cook indoors, because they emit deadly carbon monoxide fumes.
» Avoid opening refrigerators and freezers.
» Turn off or disconnect appliances and electronics to avoid potential damage when power is restored.
» Use heavy-duty extension cords to plug appliances into portable generators, which should be in well-ventilated areas, ideally outside the home.

After the storm
» Do not touch fallen or low-hanging power wires. Stay clear of puddles where downed lines might have landed, and call Hawaiian Electric's Trouble Line at 548-7961 or 911 for help.
» If a power line has fallen on your car, stay inside the car if possible and wait for help. If you can, try to drive away. But if you need to get out because of a fire or other emergency, jump out, making sure your body clears the vehicle before touching the ground.
Source: Hawaiian Electric Co.
---
Leeward side jolted by storm
Toppled utility poles are a scary reminder of averted tragedies
James Antone was pulling out of the Tesoro gas station in Nanakuli at about 3 a.m. yesterday when gusts cracked utility poles and a thick bundle of cables fell toward his 2005 Nissan Titan truck.
"The transformers blew up like 'Star Wars,'" he said.
Antone, 53, quickly put the truck in reverse but realized he could not avoid the falling wires.
"Everything came down, and I jumped out of my truck and ran."
Francine Paaluhi, a Tesoro customer service associate, witnessed the close call from the gas station's store.
"When the poles came down, the entire sky was lit up in blue and white lights because of the sparks," she said. "It literally looked like a meteorite movie."
A separate pole destroyed the station's sign, the second time in two years.
Altogether, about 36 utility poles toppled under strong gusts overnight in Nanakuli and Maili. Some broke chain-link fences; others destroyed business signs or dangled from taut cables.
Leeward resident Alvin Awana awoke to find a splintered power pole less than three feet from his doorstep.
A web of cables framed his view of the ocean and passers-by, who asked him if his family was OK. Awana answered with shakas until a Hawaiian Electric Co. worker passed by, at which point he demanded, "Hey, what's your power pole doing in my back yard?"
But he considers himself lucky.
Had the pole fallen at a slightly different angle, it would have crashed through the roof of his Farrington Highway home, which houses four adults and four children.
"It's spooky," said Jennifer Awana, his 32-year-old daughter. "There could've been live wires in the house. It could have been worse. It could have been tragic."
Ann Nishida, a spokeswoman for Hawaiian Telcom, said 18 utility poles fell in Nanakuli and another 18 in Maili, and crews would be working overnight with HECO on fixing them, focusing first on Nanakuli.
The repair work slowed traffic on the Leeward Coast all day.
Antone was unable to move his truck until later in the morning, but he knew he was not going to make it to work as a supervisor at a Sand Island trucking company.
Some of his Waianae employees called to say they were not going to make it to work because of the traffic.
"I told them to just go home," he said. "I told them I'm right here stuck, too. I got wires on my truck."
All along the Leeward Coast, residents walked along Farrington Highway, taking photos of the damage and checking whether any businesses were open to sell food.
Children took advantage of the day off from school to ride their bikes or play in their back yards, while others went to their neighbors' homes to talk story. Deborah Perez, 46, took her 7-year-old daughter, Danielle, to go shopping for food.
She found a woman with a four-pack of danishes. Perez said she asked to buy one, and the woman offered the entire pack.
"In a day with no lights, no ice, rains and mud, that was a small blessing," she said.
School closures
These public schools are closed today because of weather-related problems (all other schools are expected to be open, but parents are advised to check the school closures link at doe.k12.hi.us):
Leeward Oahu
» Waianae Elementary
» Waianae Intermediate
» Waianae High
» Leihoku Elementary
» Maili Elementary
» Nanaikapono Elementary
» Nanakuli Elementary
» Nanakuli High & Intermediate
» Kamaile Elementary (charter school)
» Ka Waihona Elementary & Intermediate (charter school)

Central Oahu
» Wheeler Elementary
» Wheeler Middle
» Hale Kula Elementary
» Solomon Elementary

Maui
» Lahainaluna High
» Lahaina Intermediate
» Princess Nahienaena Elementary

Big Island
» Kua O Ka La High & Intermediate (charter school)
Source: Department of Education

---
Homeless ride out deluge on sand, in restrooms
Jess Kaahookele was among dozens of homeless people along the Leeward Coast who decided to stay put during yesterday's early morning storm.
The reason is simple: He has a generator with a TV and DVD set hooked up under thick tarp and 3-inch poles tied against a tree. He weathered the 3 a.m. gusts watching "Troy," starring Brad Pitt.
"I knew the tent wasn't going to move," Kaahookele said. "I wasn't scared at all."
Others weren't as lucky or unfazed. Several homeless residents along Lualualei Beach Park lost clothing, food and parts of their tents as a result of the gusts and rain.
Police said the residents were warned of the storm and were told of open shelters at nearby schools, but many refused to move off the beaches.
"We're not going anywhere," said 47-year-old Jamie Calarrudo, who has been living at the park for a year. "We just try to stay here and help each other."
Many of the homeless spent the morning salvaging clothes that had blown away, and sweeping the sand and water out of their tents. Some of their tents had fallen apart, so they were rebuilding their makeshift homes.
Some of them yelled at law enforcement officials to call the Hawaii chapter of the Red Cross.
Red Cross volunteers opened up three shelters on the Leeward Coast yesterday in coordination with the city Department of Emergency Management. Maili Elementary School had been closed at about midnight due to power failures. Nanakuli High School and Waianae Elementary School remain open as shelters.
Elena Yadao, who had lived on the Maili beaches since August, said the winds were so strong that she, her husband and her brother went into a public restroom to take shelter. She had not slept since she was awakened by the rain.
"It was too dark, too windy, too cold, too wet," Yadao said.
Soon the rest of the beach community went into the bathroom. All she brought was a flashlight and a bag of important documents.
"That's one advice I have for anyone: Always have a grab-and-go bag ready," Yadao said.
---
THE NEIGHBOR ISLANDS
Pair on Maui saved from roof amid floodwater
A huge wall of muddy debris sweeps a home off of its foundation
KULA, Maui » A man and a boy were rescued from their roof by a fire helicopter yesterday after a wall of floodwater, mud and debris washed their home off its foundation and into a gulch.
"The mud was awesome. There was a lot of debris, choke trees. I was thinking of the safety of them," said Kalei Luuwai, who witnessed the rescue.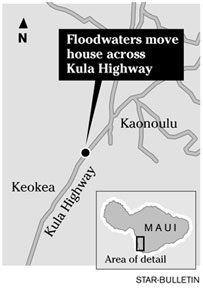 The incident took place during heavy rain on Hawaiian homestead land at Waiohuli about three-quarters of a mile makai of Kula Highway and Polipoli Road.
The flood crossed under and over culverts and Kula Highway, entering Waiohuli at about 1:30 p.m. yesterday, authorities and witnesses said.
Large amounts of mud piled up against four other Kula homes from the torrent. Preliminary reports from Department of Land and Natural Resources officials indicate that the floodlike conditions might have been caused by a potential microburst of accumulated debris and water.
Luuwai was in his house when he saw water moving over the road, then noticed a house moving along with the floodwaters.
Fortunately, he said, the house stopped in the gulch due to a grove of cactus that diverted the floodwaters.
Luuwai said he ran out and saw the house had been dragged about 100 feet and that the man and boy had climbed on top of the roof.
He said he went to get his backhoe to see if he could assist them in getting out of the floodwaters, but the surrounding area was too unstable.
Luckily, a Fire Department official lived nearby and called for help, he said.
Luuwai said the rescue helicopter was above the house in less than 10 minutes and pulling up the two people. He said a family dog was also rescued.
Luuwai said he thinks the trees that were swept along in the debris might have come from trees damaged earlier this year in a Kula forest fire.
Also flooded were portions of the slopes of Haleakala and low-lying coastal areas as high winds and heavy rain hit the island.
Major power failures struck Haleakala National Park and Maui's Upcountry and South Shore regions. The park was closed about an hour after it opened and suffered a power failure that crippled communications.
Police turned away traffic in numerous flooded areas on the Valley Isle, including North and South Kihei roads in South Maui and the coastal road in Napili in West Maui.
At one point the water rose more than 2 feet high along South Kihei Road near Hoonani Street, Hoohana Street and Namauu Place, stranding residents who use the coastal road to connect with major highways.
In Lahaina, the 58-foot sailboat Recluse sank off Lahaina Harbor while still attached to its mooring.
The surf was not as severe as on Monday, when there were 20- to 30-foot waves near Baldwin Beach Park.
---
Heavy rain brings sense of deja vu to Big Island
Some in Kona find themselves digging out the mud again
KAILUA-KONA » After storm waters destroyed Ken Verosko's South Kona Fruit Stand last week, he and friends removed 120 cubic yards of dirt and rocks from the little restaurant beside Mamalahoa Highway.
Yesterday a new storm did precisely what the previous one had done, dragging dirt and rock downhill, through orchards and straight through Verosko's building.
"This is the new river. It's coming right out of the fields," he said by telephone. Then he added, "You'll have to excuse me. I'm in the middle of a disaster right now."
As the storm moved from the top of the Big Island southward through Kona, it produced a lot of inconvenience, but the amount of outright damage was hard to assess.
In North Kona, County Councilman Angel Pilago drove home from Hilo on upland Mamalahoa Highway, crossing more than a dozen places where sheets of water up to 8 inches deep flowed across the road.
Pilago found his home in Kona Palisades in good condition, but immediately across the street, the steep ground had created a path for fast storm runoff to carry dirt and rocks into his neighbor's house.
The neighbor was too upset to talk about it.
An hour's drive to the north, rancher Monty Richards on the upper slopes of the Kohala Mountains made a biblical quip. "The cup runneth over," he said.
But Richards, whose Kahua Ranch has been suffering a drought for a year, was not complaining. "As you walk through the pastures, you can hear the kikuyu (grass) going yum, yum, yum," he said.
---
Storm could bully Big Isle before moving out to sea
The weather system that poured severe wind and heavy rain over the state since Tuesday should be finished with us today, except on the Big Island, the National Weather Service predicts.
"Most of Maui will wake up to mostly nice skies," said Roy Matsuda, Honolulu lead forecaster for the National Weather Service.
But the Kona storm could hang over the Big Island all day until it dissipates, he said.
"The Kona airport has had rain almost continuously since early afternoon," Matsuda said.
A flash flood warning for the Big Island was extended through 11:45 p.m. last night.
Kahoolawe, Maui and the Big Island remain under a National Weather Service flash flood watch until this afternoon, and the Big Island was to remain under a high-wind watch until 6 p.m.
Saturated ground from 2 to 3 inches of rain in much of the state Tuesday and yesterday makes flash flooding possible with even limited rain, Matsuda said.
With the storm "stalled" over it, the Big Island has a greater risk than the other islands, he said.
Kauai, Oahu and Maui County each emerged from a pummeling by the system with much calmer conditions, although gusts of wind in the 20 to 30 mph range and localized rain are possible today and tomorrow, according to forecasts.
Streams, drainage ditches and low-lying areas are to be avoided during a flash flood warning, the weather service warns.
Strong winds combined with snow made for blizzard conditions on the Big Islands' summit mountains, Mauna Loa and Mauna Kea. Winds up to 70 mph and snow accumulations of 6 inches overnight were predicted by Weather Service forecasts.
Once the current storm system is over, the two-week outlook does not include any major rainfall, Matsuda said. That should allow the ground time to dry out, he said.
The "vigorous cold front" hit Kauai on Tuesday night, Oahu early yesterday morning, Maui and the Kona side of the Big Island yesterday afternoon and the rest of the Big Island as the night wore on.
Where rain fell the most
Some of the higher inch counts for rainfall over a 24-hour period from 5 p.m. Tuesday, according to the National Weather Service:
Oahu
| | |
| --- | --- |
| Hawaii Kai Golf Course | 2.13 |
| Niu Valley | 2.02 |
| St. Stephen's | 2.01 |
| Wheeler Airfield | 1.55 |
Maui
| | |
| --- | --- |
| Puu Kukui | 7.69 |
| Kula Branch Station | 4.90 |
| Kahakuloa | 4.66 |
Kauai
| | |
| --- | --- |
| Mohihi Crossing | 3.31 |
| Kokee | 2.70 |
| Wainiha | 2.46 |
Big Island
| | |
| --- | --- |
| Kapapala Ranch | 6.69 |
| Kahuku Ranch | 3.17 |
Molokai