39 isle birds called at risk
New perch on groups' tally could help isle birds in peril
Hawaii's at-risk wild birds might get a dose of national attention -- and money -- with a new publicity push by the nation's two largest bird conservation groups.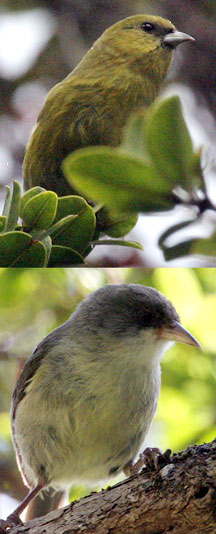 The American Bird Conservancy and the Audubon Society jointly issued a list last week of the American birds they agree are most in danger.
The new Audubon/American Bird Conservancy WatchList identifies 59 continental and 39 Hawaiian "red list" species of greatest concern, and 119 more mainland birds in the "yellow" category of seriously declining or rare species.
The list is based on the latest available research and assessment from the bird conservation community, the two groups said.
They have had separate watch lists in the past but worked jointly to make a new and better single list this year, adding Hawaii birds for the first time.
"Neither of us had Hawaiian birds on the list before," said David Pashley, the Bird Conservancy's vice president for conservation and co-author of the list. "Historically, we've been as guilty as anyone" of overlooking the 50th state's birds."
The two groups are now "trying to put (Hawaii) front and center onto the radar screen of the conservation community on the mainland," Pashley said.
Among the many Hawaii birds in peril are two species unique to Kauai, the akikiki and akekee. Both are members of the amazingly diverse Hawaii honeycreeper group, considered an even better example of evolution than the Galapagos finches that Charles Darwin used to illustrate his theory of evolution, said Mike Parr, an American Bird Conservancy vice president.
The American Bird Conservancy and local conservationist Eric VanderWerf petitioned the U.S. Fish and Wildlife Service in October to put both birds on the endangered species list, after surveys last spring showed extreme declines in their numbers.
Being on the endangered species list can help a species by drawing federal dollars to help preserve it.
"There has been so much good planning for bird conservation in Hawaii, but the price tag is really high," said Greg Butcher, the National Audubon Society's director of bird conservation and list co-author. "The big issue is there's just not enough money to work with."
Because Hawaii has such a high proportion of endangered species, it should receive extra help in protecting them, Butcher said.
Pashley said there could be help for birds via better funding for the Fish and Wildlife Service, as well as other federal conservation programs.
"Our responsibility is to prevent bird extinctions anywhere they occur," Butcher said. The most recent bird extinction in the United States was a Hawaii bird -- the poouli -- in 2004. The next species to go extinct likely will be here, too, if things do not change, he said.
With global warming moving mosquitos and the bird-killing diseases they carry to higher elevations, plus the continued onslaught of invasive species and human development, Butcher said, "The entire native Hawaiian ecosystem is disappearing in front of our eyes."
Wings bear green, feds say
Bird-watching tourists bring money into Hawaii's economy, a new study by the U.S. Fish and Wildlife Service shows.
Kilauea Point National Wildlife Refuge on Kauai generated about $10.4 million in economic return, according to "Banking on Nature 2006: The Economic Benefits to Local Communities of National Wildlife Refuge Visitation."
The study said 986,088 people visited Kilauea Point in 2006 to view birds, whales and other wildlife, with nonresidents accounting for 97 percent of all visits. Visits to the refuge created 142 private-sector jobs and generated $4.1 million in job income and total tax revenue of $2.2 million, according to the report.
For every dollar in refuge budget expenditures, the refuge returned $16.12 in economic benefits to the community, the report said.
Nationwide, total recreational use in 2006 of national wildlife refuges on the mainland supported almost 27,000 private-sector jobs, produced about $543 million in private-sector employment income and generated nearly $1.7 billion in total economic benefit, the study said.
"We've always known that national wildlife refuges enrich Americans' lives," U.S. Fish and Wildlife Service Director Dale Hall said. "The report reveals that the Refuge System, while admirably fulfilling its conservation mission, also repays us in dollars and cents."
STAR-BULLETIN STAFF