'Manhattan Project' to save climate urged
Lagging on warming could send 'something bad'
STORY SUMMARY »
Scientists and government officials gathering on the Big Island last week warned that the first signs of global warming already are clear and demand prompt action.
The three-day symposium marked the 50th anniversary of atmospheric carbon dioxide observations, launched at Mauna Loa Observatory in 1957.
One government scientist said the effort to combat climate change must be comparable to the Manhattan Project, which developed the atomic bomb in World War II.
And a retired Navy admiral said that while more research is needed, the mechanics of greenhouse global warming are indisputable.
"If you wait until you are 100 percent certain, something bad is going to happen," he said.
STAR-BULLETIN
---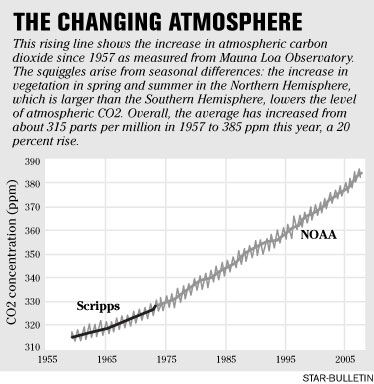 ---
FULL STORY »
KEAUHOU-KONA, Hawaii » Fifty years after the start of carbon dioxide studies on Mauna Loa and the discovery of increasing global warming, retired Navy Vice Adm. Paul Gaffney has a warning for climate scientists and the public.
Although there is still uncertainty about the degree of danger, the impact of global warning is high, he said.
"If you wait until you are 100 percent certain, something bad is going to happen," he said last week at the Sheraton Keauhou Bay Resort.
Gaffney was one of numerous scientists, government representatives and business leaders speaking to 175 attendees at a three-day symposium marking the 50th anniversary of atmospheric carbon studies.
The studies of the gas by Charles David Keeling began in 1957 at Mauna Loa Observatory, which he established at the 11,000-foot elevation under the sponsorship of the Scripps Institution of Oceanography. Since 1972 the National Oceanic and Atmospheric Administration has continued and expanded the work.

Gaffney's warning was taken from a report he issued this year with other retired military leaders under the title "National Security and the Threat of Climate Change."
It paralleled a report by the International Panel on Climate Change that said in February that climate change is "unequivocal" and "very likely" caused by greenhouse gases. The IPCC and former Vice President Al Gore won the Nobel Peace Prize for their focus on the issue.
Alexander MacDonald, head of the NOAA Earth System Research Laboratory, said Earth's average temperature will probably rise about 6 degrees Fahrenheit this century. "That doesn't sound that bad," he said. But various factors make a rise of 25 degrees possible over continental areas, he said.
Taking the chance that the change will not be that big is like playing Russian roulette, he said.
A program comparable to the Manhattan Project, the intense endeavor that created the atomic bomb, is needed to avoid the threat, MacDonald said.
Even smaller warming is a concern, Gaffney said. India already is building a fence to keep out immigrants from sea-level Bangladesh. As warming increases desert areas in western China, it increases rainfall and potential food production in neighboring Russian Siberia.
With mounting evidence of warming, Ralph Cicerone, president of the National Academy of Sciences, worries that politicians might cut research funding. "I am worried we have too many people going around saying the science is settled," he said.
In fact, some new research tools are becoming available, said Leonard Barrie, director of the World Meteorological Organization. Two satellites now measure upper-atmosphere carbon dioxide, work they were not designed to do. Two new ones, the U.S. Orbiting Carbon Observatory and Japan's GOSAT, are due to study the entire amount of the gas from ground level to the edge of space.
A new generation of computer models will integrate short-term weather prediction with long-term climate prediction, Barrie said.
Japan Airlines has long sampled carbon dioxide on its flights from Tokyo to Sydney. Several European airlines will start doing the same on that continent, Barrie said.
One of the biggest breakthroughs could come from a public-private alliance called FutureGen, said Fred Palmer, vice president of Peabody Energy, the world's largest private coal company.
Peabody is in an alliance with 11 other companies, including China Huaneng Group, to build zero-emission coal-fired power plants, Palmer said.
The technology involves removing carbon dioxide from power plant exhaust, compressing it into a liquid and piping the liquid several thousand feet underground into "salt reservoirs," he said.
Coal-dependent China has now passed the United States as the largest emitter of carbon dioxide in the world, Palmer said. But there are enough salt deposits around the world, including China, to handle the liquid wastes, he said.
The site for the first such plant is to be selected this week from two possibilities in Illinois and two in Texas. The plant, ready to produce power in 2012, will have a capacity of 275 megawatts, enough to power 150,000 average U.S. homes, he said.