Mom worries about daughter
Homelessness has hit the girl deeply, says mother "Hauoli"
The mother's voice broke as she talked about her teenage daughter's three suicide attempts since they became homeless in March.
A former honor roll student, Mary (not her real name) "fell into depression after we lost our home," said "Hauoli," the mother of six. "She went downhill and just wanted to die. She would rather feel the pain of cutting herself instead of feeling her heart hurting."
The family, which is using pseudonyms for this article to protect their privacy, is among those in Hawaii finding themselves in great need during the holidays. The Community Clearinghouse's annual Adopt-A-Family program helps ease the pain and the Star-Bulletin's Good Neighbor Fund works in partnership with the clearinghouse to collect donations of goods and money.
"I never saw this coming," Hauoli said, when they hit bottom and found themselves living on Maili beach. They owed thousands of dollars in back rent and thought they could save enough to pay off the debt by camping out.
"But every paycheck went for gas, food and water. It took a lot of gas for the generator and lanterns," she said.
"We (always) had to battle the weather. Once, I just did the laundry, and it began pouring rain," Hauoli said.
Her baby, who has asthma, got sick and Mary started "cutting herself," Hauoli said.
"I really lost hope," she said. "The only thing that kept me going was reading my Bible every day and night. I just prayed. The Bible said God never puts you in a place you can't bear."
But the beach became crowded with more homeless, and the site of frequent loud arguments, domestic violence, drug trafficking and alcohol abuse. "I couldn't take it anymore," Hauoli said. Her husband also worried about their safety while he was away at work.
They got into an emergency shelter where conditions improved, but "I felt we were treated like losers," she said. "The staff assumed we had drug and alcohol problems. But we came in clean and we left clean."
Hauoli's family moved into the Onemalu Transitional Shelter at Kalaeloa in August with their three youngest children. The three older ones are grown and living independently.
"I actually love it here," where they have privacy, their own bathroom and follow "rules that aren't ridiculous," she said. They are on two waiting lists for houses. But what encouraged her most was a class on life skills that boosted her self-respect, Hauoli said.
By being homeless, "I felt like a failure," she said. "One of my personal issues is I blame myself a lot."
One day she hopes to get a job as a store manager, as she once was for eight years, or to work in an office.
For Christmas, she is asking for clothes for her children and diapers for her baby.
When pressed about what she would want for herself and husband, Hauoli said: "It would be nice just to have money to spend quality time together, maybe go to dinner and movie. I love the Outback Steakhouse. We haven't been able to do that for a while."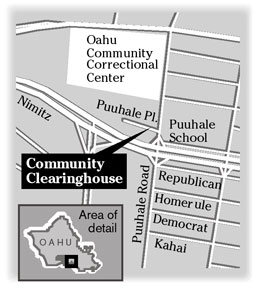 Contributing to the Good Neighbor Fund
The Star-Bulletin's Good Neighbor Fund will take donations until Dec. 31, and will list donor names in the paper until Jan. 11.
Monetary gifts may be sent to: Honolulu Star-Bulletin's Good Neighbor Fund, c/o Helping Hands Hawaii, P.O. Box 17780, Honolulu, Hawaii 96817-0780.
In addition, checks (not cash or gifts) made out to the Good Neighbor Fund can be dropped off at any First Hawaiian Bank branch from Tuesday through Dec. 31.
Clothing, household items and gifts can be donated at the Community Clearinghouse, 2100 Nimitz Highway.
Call 440-3804 for information about the program or to arrange for pickup of large items.
You may also participate in the Adopt-A-Family program, in which businesses, employee groups, social clubs, families or individuals can help a specific family. For information, call 536-7234, ext. 804.
Donations as of Friday
| | |
| --- | --- |
| Name | Amount |
| » Ellen McFarland | $1,000 |
| » Anonymous | $300 |
| » Herbert Frantz | $100 |
| » Ina Lee | $100 |
| » Jerome & Laura Manis | $100 |
| » Ruth Satsuki & Theodor Sakai | $100 |
| » Raymond & Elaine Sakai | $100 |
| » Kevin Genovia | $50 |
| » Juliana Lau | $50 |
| » Alice Yasutake | $50 |
| » Matsuyo Nose | $30 |
| » Herb Ho | $25 |
| » Clifford & Edna Nishimura | $25 |
| Total donations | $2,030 |