| | |
| --- | --- |
| | Wood Craft |
---
'Long Story Short' with Sevey by PBS' Wilcox is fascinating
L
eslie Wilcox's
interview with
Bob Sevey
on her "Long Story Short" program shown by PBS Hawaii in two parts Tuesday and Nov. 20 was excellent, fascinating television.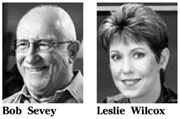 Sevey, the "
Walter Cronkite
of Hawaii" when he ran KGMB-TV's news department for 20 years, ending in 1986, revealed how TV news shows are now run. He also revealed he has cancer and was given 12 months to live 13 months ago. And he revealed that he did not retire. He resigned after
Cec Heftel
-- for whom Bob has high regard -- sold the station and new corporate owners brought in consultants and producers to run the news show that he had been given free rein to run by Cec. It was the highest-rated news show in Hawaii for many years. Except for being bald due to chemo treatments, Bob, 79, looked and sounded fine. He included humor during the interview and Leslie, now PBS Hawaii president, was at her best. She started in the news biz as a Star-Bulletin reporter and Bob hired her away from us. She was one of many people he hired who became TV "names." It was amazing Leslie didn't break down when her Captain -- that's what they called him, Captain -- discussed his mortality. Talking of wife
Rosalie's
Alzheimer's disease also was an emotional subject. But Bob was straightforward, clear and informative throughout both half-hour shows, as he was on his news programs. If you did not see them, do not miss Sunday's repeat of Part 2, which reviews some of Part 1, at 2:30 p.m. Part 1 will air again Christmas Day and Part 2 on New Year's Day, both at 7:30 p.m. ...
Halekulani makes Robb Report's top 100 list
The Halekulani is the only hotel in Hawaii listed in Robb Report Luxury Hotels, the Winter Issue of the upscale magazine's annual listing of what it ranks as the top accommodations in 100 cities worldwide. La Mer Chef
Yves Garnier
is the only member of the Halekulani team who is mentioned. Other names in the article include
Vera Wang
for her suite, and
Duke Kahanamoku
, involving surfing off Waikiki ... Pianist-singer
Tennyson Stephens
and sax player
Rocky Holmes
are now at Lewers Lounge at the Halekulani Saturday nights. The lineup has singer-bassist
Bruce Hamada
and pianist
Jim Howard
swinging it Tuesday through Friday and pianist-singer
Noly Pa'a
on Sundays ...
Ben Wood
, who sold the Star-Bulletin in the streets of downtown Honolulu during World War II, writes of people, places and things in our Hawaii. E-mail him at
bwood@starbulletin.com