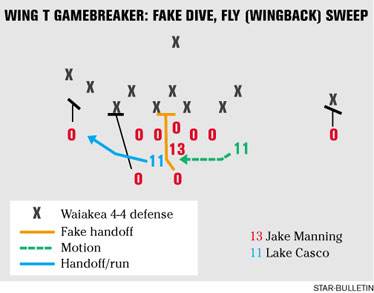 Lunas rely on intricate Wing T
Second in a Series
Old school, but everlasting.
That's the Wing T and its versions, and Lahainaluna has it down to a science.
Iolani will get its fill and more when the two teams meet for the Division II title on Friday in the First Hawaiian Bank/HHSAA State Championships at Aloha Stadium.
Under Bobby Watson, Lahainaluna has wielded discipline as a weapon with its Wing T offense. Unlike Waianae, which employs a tight end in the set, the Lunas drop the tight end and like to have a wide receiver to each side.
The wingback is an integral part, the trigger who sets off the antennae of linebackers and defensive backs. Lahainaluna will use the fullback as a decoy, sometimes faking to him up the gut before handing the ball to the wingback. Sometimes the wing will go in motion (fly), sometimes he won't, but if he isn't covered, the Lunas will unleash him on a handoff for a sweep that can turn the momentum of a game in mere seconds.
Overplay the fly sweep, and the Lunas will fake it and run a counter to the upright running back, who lines up behind either offensive tackle.
In its glory years, when leather helmets were the latest in equipment technology, the Wing T and its numerous cousins operated on a silent count.
However, as Saint Louis coach Delbert Tengan once noted, without the silent count, defenses have the opportunity to close gaps and read tendencies with far more success.
But in Lahainaluna's case, the absence of a silent count doesn't seem to matter. No foe has held the Lunas to fewer than 20 points all season. They average 37.5 points per game.
How does a run-oriented, throwback offense produce so well?
Lunas quarterback Jake Manning is precise with the intricacies of the offense and has a cannon for an arm. Though Lahainaluna often uses play-action quick passes when a slot lines up in the backfield, Manning likes the long ball, and that keeps defenses off-balance.
Give the Lunas offense enough space, and the fullback and wingback will do their magic.
All of this could spell trouble for an Iolani defense that struggled against the run this season and has not seen the Wing T in two months. Then again, Iolani fought hard in that game, a 22-19 loss at Waianae.
There are many theories about stopping the Wing T, but one common thread remains: always hit the quarterback whether he keeps the ball, hands if off, or lets it fly. For an undersized Iolani defense that won't necessarily stack eight in the box, that's just one thing to ponder.