| | |
| --- | --- |
| | Weekly Eater |
---
Restaurant guide brings local picks to tourists
Every traveler faces the dining dilemma: guidebooks filled with hundreds of restaurants, each seeming spectacular in its own unique way. But how does one go about whittling down the choices from 100 to the 14 or so that you will actually be able to visit in the course of a two-week stay?
"Where the Locals Eat: The 100 Best Restaurants in the Top 50 Cities"
(Magellan Press)

312 pages, $11.95
I have been stumped in New York, where every restaurant decision represents one lost opportunity elsewhere.
Along comes the guidebook "Where the Locals Eat: The 100 Best Restaurants in the Top 50 Cities," which offers a good cross section of restaurants from San Francisco to Atlanta, where local diners choose to spend their dining dollars, making for some quirky choices often missed by glossy travel magazines.
Studying Honolulu's roster provides a pretty good idea of where the reviewers are coming from, and that bodes well for those taking the book on the road.
The book is the companion to a free, searchable Web site,
www.WhereTheLocalsEat.com
, that includes the latest foodie news, blogs and restaurant updates, in addition to the restaurant listings from the book.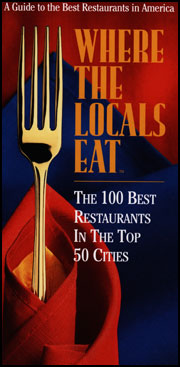 Reviews are based on surveys of 50,000 diners across the country. Ten restaurants are highlighted for each city, with another 90 dispatched with a phone number and a word or two describing the type of cuisine.
Honolulu restaurants and eateries singled out for longer reviews are 12th Avenue Grill (best contemporary), Alan Wong's Restaurant (best dessert and best Hawaiian Regional), Ba-Le Sandwich Shop (best Vietnamese), Giovanni's Original White Shrimp Truck (best shrimp truck), Hoku's (top 100 restaurant), Hy's Steak House (best steakhouse), La Mer (best French), Leonard's (best bakery), Nick's Fishmarket (best seafood) and Orchids (best brunch).
The top 10 reflect a range of cheap eats to fine dining, embracing local specialties such as garlic and spicy shrimp at Giovanni's and Leonard's famous malasadas.
---
The Top 100
If you want to expand your horizons and eat your way through the other 89 restaurants in 2008, here's the list (at least one, Neo Nabe, has closed):
3660 on the Rise
Anna Miller's
Antonio's New York Pizzeria
Assaggio
Auntie Pasto's
Bali by the Sea
Big City Diner
Bluwater Grill
Boots & Kimo's Homestyle Kitchen
Boston's North End Pizza Bakery
Brew Moon
Bubbie's Homemade Ice Cream
Café Miro
Cafe Sistina
Casablanca
Chai's Island Bistro
Champa Thai
Chef Mavro
Chiang Mai Thai Cuisine
Coffee Talk
Compadres Bar & Grill
Dave's Hawaiian Ice Cream
Dixie Grill
d.k. Steakhouse
Down to Earth Deli
Duc's Bistro
Duke's Canoe Club
E&O Trading Co.
Eggs 'n Things
Elena's Home of Filipino Foods
Formaggio
Genki Sushi
Grand Cafe & Bakery
Gulick Delicatessen & Coffee Shop
Gyotaku Japanese Restaurant
Hakkei
Hale Vietnam
Haleiwa Joe's Seafood Grill
Hee Hing
Hiroshi Eurasion Tapas
Honolulu Coffee Co.
Indigo
JJ Bistro and French Pastry
John Dominis

Kakaako Kitchen
Kelley O'Neil's
Keo's Thai Cuisine
Koko Marina Pub
Kua 'Aina
L & L
Le Bistro
Legend Seafood Restaurant
Libby Manapua Shop
Liliha Bakery and Coffee Shop
Little Village
Lucy's Grill & Bar
Maple Garden
Mariposa
Matsumoto's Shave Ice
Mi Casa Taqueria
Michel's
Murphy's Bar & Grill
New Violet Grill
Nico's at Pier 38
Ola at Turtle Bay Resort
Olive Tree Cafe
Ono Hawaiian Foods
Paradise Cafe
Phuket Thai
Pineapple Room
Prince Court
Rokkaku
Roy's Hawaii Kai
Ryan's Grill
Sam Choy's Breakfast, Lunch & Crab
Sam Choy's Diamond Head Restaurant
Sansei Seafood Restaurant & Sushi Bar
Shokudo
Side Street Inn
Sorabol Korean Restaurant
Teddy's Bigger Burgers
Ted's Bakery
Town
Vino
The Willows
Yanagi Sushi
Young's Fish Market
Zaffron
Zippy's
---
Nadine Kam's
restaurant reviews are conducted anonymously and paid for by the Star-Bulletin. Star ratings are based on comparisons of similar restaurants:
| | |
| --- | --- |
| | excellent; |
| | very good, exceeds expectations; |
| | average; |
| | below average. |
To recommend a restaurant, write: The Weekly Eater, P.O. Box 3080, Honolulu, Hawaii 96802. Or send e-mail to nkam@starbulletin.com