Oahu road projects will take hiatus for holidays
Merchants overjoyed by road work reprieve
STORY SUMMARY »
In the madness of the upcoming holiday season, there's one thing residents don't have to worry about: construction work on major roadways.
State and city crews will suspend work for Thanksgiving and for several weeks in December to make room for frenzied shoppers.
In a special case, there will be no construction on Kapiolani Boulevard from tomorrow until mid-January -- a much-appreciated Christmas present, say surrounding business owners who have seen revenue drop since the massive project causing heavy traffic, loud noise and lingering stenches began last year.
---
FULL STORY »
The city is suspending construction and temporarily repaving Kapiolani Boulevard from tomorrow until mid-January for the holiday season, pleasing many nearby business owners and residents that have been burdened with traffic woes, noise and stench.
Crews began removing construction materials yesterday that have been closing lanes of Kapiolani Boulevard for a major sewer and water line project since last year.
"I'm ecstatic," said Sam Eligio, general manager of Shokudo Japanese restaurant on Kapiolani Boulevard. "The stench of the sewer really kills our ambience. And for many of our customers, the traffic is just too much of a hassle."
As a "holiday shopping present" for Honolulu residents and visitors, Mayor Mufi Hannemann said yesterday at a news conference that construction work on all major roadways will be suspended. Lane closures and construction work on other city projects won't be permitted on Thanksgiving or from Dec. 17 to Jan. 1.
State crews also will suspend road work from tomorrow until Sunday and from Dec. 13 to Jan. 2. The state's major road work includes repaving Ala Moana Boulevard and filling the concrete potholes on the H-1 freeway at the airport viaduct.
The work on Kapiolani Boulevard, however, will be suspended throughout December because of the expected holiday rush at nearby Ala Moana Center.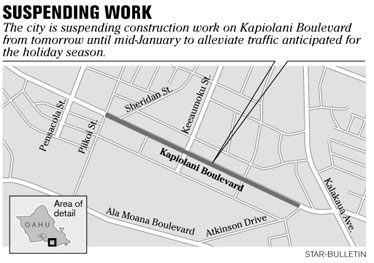 City crews are repaving Kapiolani Boulevard and will excavate the road again in January when construction continues. Beginning Friday, there will be morning and afternoon contraflow lanes.
This comes as a huge but temporary relief for businesses on Kapiolani Boulevard, many of whose owners have said business has been down since construction started. Many customers have said they avoid driving on Kapiolani Boulevard since the round-the-clock construction shuts down one lane in each direction, creating a traffic mess.
Eligio said while his restaurant's business is overall doing well, revenue this year is down 2 percent of what he projected. Other businesses, like 24-Hour Fitness, created special offers, such as free holiday workout weekends, to attract customers.
"This is something we don't normally do," said Travis Kinoshita, 24-Hour Fitness district manager. "This is an alternate way to increase traffic flow."
The holiday closures were included in the overall time line for construction, which is scheduled to end next summer.
Hannemann also announced that the city revamped a Web site, DriveAkamai.org, that gives detailed information on traffic in downtown Honolulu to help motorists plan their trip to avoid any road construction. The Web site features an interactive map, traffic alerts and live traffic cameras.
The Web site covers the area within the boundaries of Liliha Street on the Ewa side and Kapahulu Avenue on the Koko Head side, and the H-1 freeway and South Shore on the mauka and makai sides, respectively.