Hawaii jobless rate increases slightly
Hawaii's jobless rate ticked up in October for the first time since July, according to data released yesterday.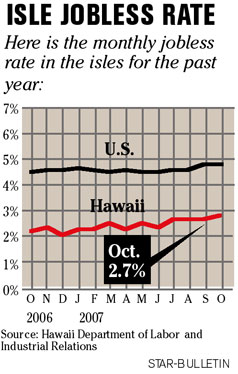 The state's seasonally adjusted unemployment rate rose to 2.7 percent from 2.6 percent in the previous three months. That keeps it at second-best in the nation for the fourth consecutive month behind Idaho, which held onto the top spot at 2.5 percent, according to data released yesterday by the state Department of Labor and Industrial Relations.
Hawaii's jobless rate increased from a revised 2.1 percent a year ago but is still far below the national unemployment rate, which held steady at 4.7 percent for the month and is up from 4.4 percent a year ago.
The state jobless rate has remained below 3 percent since December 2004. Hawaii hit an all-time low of 2.0 percent in December 2006.
"We've still got a pretty tight labor market," said First Hawaiian Bank economics consultant Leroy Laney. "The economy is slowing down some, so it's not surprising to see the jobless rate climbing a little bit."
Paul Brewbaker, chief economist at Bank of Hawaii, said the 4.7 percent national rate is close to what is generally considered full employment.
"I'd say 2.7 in Hawaii is still way too tight, but drifting higher slowly, as expected," Brewbaker said.
Total nonagricultural jobs decreased by 2,300 to 631,600 in October from the prior month. Year over year, the number of jobs grew by 11,600, or 1.9 percent, the labor report said.
By county, for which the figures are not seasonally adjusted, Honolulu and Kauai had the lowest jobless rate, at 2.4 percent, followed by Maui County at 3.1 percent and Hawaii County at 3.2 percent.