---
FAST FACTS HAWAII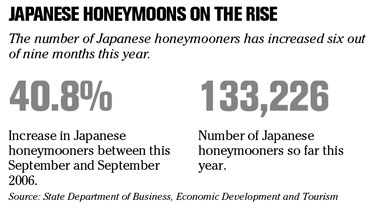 ---
NATION
Film, TV writers' talks to resume
LOS ANGELES » Hollywood film and TV writers who've been on strike two weeks will return to contract negotiations on Nov. 26, their union and producers said yesterday.
In a joint statement, the Writers Guild of America, West, and the Alliance of Motion Picture and Television Producers said both sides had agreed to return to formal negotiations.
Meanwhile, the writers, who went on strike Nov. 5, would continue on the picket line, said Gregg Mitchell, a spokesman for the guild.
At the core of the contract dispute is compensation for shows offered on the Internet.
Since the strike began, late night talk shows and some sitcoms have gone to reruns.
Abu Dhabi buys stake in AMD
SUNNYVALE, Calif. » The Abu Dhabi government's investment arm is buying an 8.1 percent stake in No. 2 microprocessor maker
Advanced Micro Devices Inc.
for $622 million.
A unit of Mubadala Development Co. received 49 million newly-issued AMD shares at Thursday's closing price of $12.70 each, the Sunnyvale-based chip maker said yesterday.
AMD received about $608 million, after reimbursing the United Arab Emirates investment firm for approximately $14.6 million in expenses.
The company said Mubadala will not receive any board representation as part of the non-controlling, minority investment. This transaction isn't therefore subject to review by the Committee on Foreign Investment in the U.S.
Fannie Mae defends accounting
washington »
Fannie Mae
's bookkeeping is drawing scrutiny from Wall Street -- again.
Three years after a stunning accounting scandal that forced it to restate earnings by $6.3 billion, the giant government-sponsored company that buys and sells home loans is on the defensive over a change in how it calculates potential losses from the growing mortgage crisis.
The fear among investors is that a new accounting methodology masks the number of bad loans held by Fannie, downplaying potential losses.
Shares of Fannie, the largest U.S. player in the market for mortgages that packaged into tradable securities, tanked for the second straight day yesterday, even as executives tried to assuage skeptical Wall Street analysts on a telephone conference call.
Alaska raises tax on oil firms
JUNEAU, Alaska » Alaska's legislature yesterday approved a bill that imposes a 25 percent tax on the net profits of oil companies operating in the state, raising the tax from the current rate of 22.5 percent.
The tax could bring in an additional $1.5 billion annually to the state's treasury, depending on oil prices.
It was the second tax change in as many years, but Republican Gov. Sarah Palin said current law was tainted by a federal corruption probe tied to the tax and because it didn't earn as much as projected.
The oil industry, led by BP PLC, ConocoPhillips and Exxon Mobil Corp., however warned that the new tax format will discourage future investment at a time when North Slope production sits at a 6 percent annual decline.
---
BUSINESS PULSE