MISSION TO MYANMAR
From vacation to isolation
A violent crackdown over protests scares tourists away from Myanmar
STORY SUMMARY »
Second of Two Parts
YANGON, Myanmar » With its ancient and historic temples, friendly people and colorful festivals, this country known as "the Golden Land" should be a tourist Mecca.
But tourism also supports Myanmar's authoritarian military government, and most tourists stopped coming after the government brutally suppressed pro-democracy protests in September.
Tourism industry workers are worried about their jobs.
"When the garment industry shut down because of economic sanctions, thousands of people lost their jobs," one resident said. "Now that might happen to the tourist industry."
STAR-BULLETIN
---
FULL STORY »
INLE LAKE, Myanmar » Just before sunset, a fisherman paddles a dugout canoe in the traditional style -- with his right leg -- as he holds a net and spear in his hands.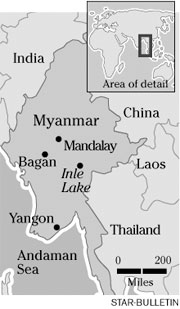 The teak deck of the upscale Paradise Inle Resort should be filled with tourists watching the picturesque scene. Instead there is only a reporter from Hawaii on vacation.
After images of pro-democracy protests violently crushed by Myanmar's military government were broadcast worldwide in September, 499 of 500 groups booked for the hotel canceled, the resort's manager said last month.
The hotel workers sit around on the deck with nothing to do, worried about their jobs. The sun peeks through for a few minutes, bathing the lake and mountains in the orange afternoon glow, then is covered by heavy clouds.
Myanmar, also known as Burma, was on track for a record year for tourism with 190,000 visitors through August, according to the Associated Press.
After the protests, the U.S. State Department put out a travel advisory, cautioning citizens from traveling in Myanmar because of the potential for further demonstrations.
The protests and brutal crackdown also refocused attention on the ethics of visiting a country that represses its citizens. The government collects taxes from tourists, so it is impossible not to support the government while traveling here.
Nobel Prize laureate Aung San Suu Kyi, who was elected as Myanmar's leader in 1990 but not allowed to take office, has urged tourists to take their money elsewhere to keep economic pressure on the government to change.
But tourism also improves the lives of ordinary citizens already suffering in one of the poorest nations in the world.
Under economic sanctions, "the rich are still rich, while the poor are suffering more," a taxi driver said.
While acknowledging that ordinary people are hurt by international economic sanctions, Bo Kyi of the Assistance Association for Political Prisoners (Burma) said the sanctions are among the few tools democracy advocates have to keep pressure on the military government to change.
"People are suffering because of the mismanagement of the economy (by the government)," Kyi said. "When the government changes, the people will benefit."
For people whose livelihood depends on tourism, the lack of tourists has cut off their main source of income just as it has become more expensive to survive.
In Bagan, an ancient city with more than 2,000 temples, stupas and pagodas, I visited a temple that is not on the main tourist route and gets even fewer visitors now.
Bowing to pressure, I bought a lacquer bowl and a sand painting for a few dollars.
"Thank you, thank you," a woman told me in English as I walked away with souvenirs I did not need. "My whole family thanks you."
Above the village of Mine Thauk on Inle Lake, there are two orphanages supported by a local hotel, foreign donations and donations from tourists.
At the girls' orphanage, 68 children are doing homework after attending the local public school. They study until about 10 p.m. when they go to sleep, said the woman who runs the orphanage.
The woman, who did not want her name used, said some of the girls are true orphans; others are from mountain tribes. Staying here is the only way they can go to school.
She introduced me to a young girl whose mother is in prison and whose father abandoned her.
The girl gave a practiced speech in English.
"My ambition is to be a doctor. I am honored to meet you," the girl said.
Later the orphanage manager displayed a book where donations from tourists were recorded. The room also was filled with notebooks and toys brought by visitors.
Since there are few tourists, the manager said, she is not sure what will happen to the orphanage in the coming months.
In Yangon, the former capital and the largest city in Myanmar, barbed-wire barricades remain off to the side on sidewalks leading to the Sule and Shwedagon pagodas, the holy sites that were the center of September's protests.
The barricades are ready to be put back into place to block entry to the pagodas if demonstrations resume, but otherwise there are no signs of a heavy police or military presence.
On the way to my hotel, the taxi driver pointed out the spot on Sule Pagoda Road where a soldier shot and killed Japanese journalist Kenji Nagai.
Other than the barricades, there is little sign of the democracy demonstrations and the killings of protesters during the subsequent government crackdown.
Most people are going about their daily business, just trying to survive and make a living.
One man told me he was a student leader during the 1988 pro-democracy protests. Now he has a wife and two children.
"There's too much to lose now," he said, explaining why he did not take part in September's protests.
In a tea shop, a man told a joke that provides a good example of the fatalistic humor popular here. There are five basic principles of Buddhism, he says. A good Buddhist should not kill, steal, lie or take intoxicants and should refrain from sexual misconduct. The generals, the punch line goes, are not good Buddhists.
Jokes are one way people in Myanmar cope. But they can also land you in prison. The generals apparently do not have a sense of humor when the joke is at their expense.
Par Par Lay and cousin Lu Zaw, two-thirds of the Moustache Brothers, were sentenced to seven years of hard labor for telling jokes at the lakeside compound of Aung San Suu Kyi during an Independence Day performance in 1996.
The Moustache Brothers are a third-generation family troupe of "a-nyeint pwe" comedians and dancers. A-nyeint pwe is Burmese vaudeville -- a mixture of traditional dance and comedy -- that has been around for centuries.
Par Par Lay and Lu Zaw were released after serving five years after Hollywood comedians took up their cause.
Par Par Lay's brother Lu Maw, 58, kept the troupe alive despite being blacklisted by the government. Now they perform in English, only for tourists.
But tourists who visit Mandalay, where they put on shows in a small stage at their home, are afraid to visit, wondering if it is safe to see political comedy in Myanmar, Lu Maw said.
Last year at this time, the Moustache Brothers would have about 14 tourists a night for a show, Lu Maw said.
On the night I visited, I was the only audience member.
The lack of tourists is not only affecting the family's ability to make a living.
Par Par Lay, the leader of the troupe, was arrested again in the middle of the night on Sept. 25 during the government crackdown on pro-democracy protesters.
They have not heard from him since and are not even sure where he is being held. The family is counting on foreign tourists to spread the word about Par Par Lay and put pressure on the government to release him.
His wife, Ma Win Ma, is a dancer in the Moustache Brothers troupe.
"Par Par Lay's wife now, she's very sad. She wants to give clothes to her husband. She wants to give food to her husband," Lu Maw said.
During the performance, Lu Maw makes a plea. "Now I need help. I need big publicity from Hollywood comedian," he said. "They know already in 1996. Now I need again. For my brother need again. He was arrested Sept. 25. I want to get my brother released."
"Videotape this," he tells me. "Take it to the BBC and CNN. But hide the tape when you leave here."
---
The Last Laugh
Here is a sample of the jokes told by the Moustache Brothers:

"My teeth give me trouble, toothache. I cannot eat. I'm suffering. I take the bus, cross border to Thailand. I very lucky I see the doctor, dentist. The doctor says, 'Lu Maw, why you come outside to Thailand? In Burma, don't you have a doctor?' I said, 'Yes we have, but in Burma we are not allowed to open our mouth.'"

"Ne Win (the general who ruled Burma from 1962 to 1988 and turned it into a socialist economy) died in 2002. He was transformed into a big fish under the water, under the sea. A big fish like a house, a big house. ... You know tsunami. It hit Indonesia. ... Many houses, many hotels damaged. It goes to Thailand, many hotel, houses damaged. The wave comes to Burma. We are very lucky. ... Under the water the big fish comes up on top of the water. 'Wave, please stop. You are too late. I've done already. You don't need to hit.'"

"My father was a comedian. He's 82 now, sitting outside. You know why my father is outside. He's watching KGB, you know FBI, CIA ... Mossad, MI-5 ... If the KGB come my father give me signal (whistles). Running, running. They arrest tourist. Moustache Brothers escape. No problem. They arrest you. Just joking."
---

Editor's Note:
Star-Bulletin reporter Craig Gima's travels were partially paid for through the World Affairs Journalism Fellowship, a program administered by the International Center for Journalists in Washington, D.C., and funded by the Ethics and Excellence in Journalism Foundation in Oklahoma City. For more information, visit
icfj.org.
For more information
about Burma