ISLE PAGES
Steamy passages distract from mystery
Florida writer Neil S. Plakcy sets his murder tale on Oahu's North Shore, involving surfers being shot right off their boards, drug trading and a shady land deal.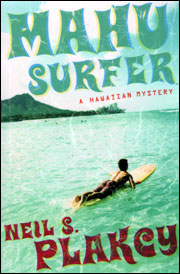 The story moves along well enough, populated with an interesting cast of characters, but that's not what's most noticeable about this tale.
Plakcy has cast as his hero Kimo Kanaapa'aka, a part-Hawaiian former cop who's gay. His first novel, "Mahu," in 2005, covered Kimo's being dragged out of the closet.
Now, mystery novels, especially series based on a single protagonist, don't shy away from sexual encounters, and some can be quite graphic, but I don't think I've ever read a passage quite up to Plakcy's description, for example, of a "Kimo sandwich."
The focus needs to be the mystery, but the many steamy passages here are unflinching to the point of total distraction.
If Plakcy's gotten all of that out of his system, though, his next novel would be a welcome one. Kimo brings needed diversity to the genre, and the author handles the island setting well.
"Mahu Surfer: A Hawaiian Mystery"
by Neil S. Plakcy
(Alyson Books,
www.alyson.com
)
$14.95