HiLIFE
Not just another pretty face
If it not for her poetry, actress Amber Tamblyn admits she wouldn't be content with her life.
GiRL FeST Hawaii
Fourth annual event. Call: 599-3931 or visit girlfesthawaii.org and myspace.com/girlfest

Friday
» 8:30 p.m.: Opening-night concert, Hawaiian Hut, 410 Atkinson Drive, featuring Taiko Center of the Pacific, Amber Tamblyn, Emily Wells, Ali Wong, Derrick Brown, Andrea Gibson, Kealoha and Mindy Nettifee. Admission $5 to $20.

Saturday
» Noon: "B-Girl" breakdancing workshop, ARTS at Marks Garage, 1159 Nuuanu Ave. Free.
» 7:30 p.m.: Tamblyn's "It's Hard to Face Your Problems ..." with special appearance by Bonnie Tamblyn, ARTS at Marks Garage. Cost $7 to $20.
» 9 p.m.: "Beauty & the Beats" Smart Party, Anna Bannana's, 2440 S. Beretania St., with Wells, Edison Gem, The Malcognitas, Dolls Till Daylight and DJ Eko. Cost $5 to $20; 18 and over.

Sunday
» 8 p.m.: The GiRL SLaM BAM!, The ARTS at Marks Garage, open poetry slam featuring Gibson, Netifee and Noelani Goodyear-Ka'opua. Cost $5 to $20.

Tuesday
» 8:30 p.m.: Bringing Back Kerouac at Anna Bannana's, open mic with Tamblyn, Brown, Nettifee, Mighty Mike McGee and Selah Geissler; 21 and over.

Nov. 15 to 18
» GiRL FeST film festival at Doris Duke Theatre, Honolulu Academy of Arts. Cost $6.

Nov. 17
» 7 p.m.: "Showdown in GirlTown" film competition and concert, NextDoor, 43 N. Hotel St. Cost $10; 21 and over.
» 8 p.m.: Youth Speaks Interscholastic Poetry Slam, Hawaiian Hut. Cost $10; $4 presale; $7 youth.

Nov. 18
» 8 p.m.: Closing night party, Bar 35, 35 N. Hotel St. Cost $5 before 10 p.m.; $8 after; 21 and over.
While she kept a low profile at last year's GiRL FeST Hawaii, Tamblyn returns for this year's gathering of female empowerment as a featured artist. Tamblyn is best known for her roles as the lead in the cult TV drama "Joan of Arcadia," and on the big screen in two "Grudge" horror movies, the tween-friendly "The Sisterhood of the Traveling Pants" and the critically acclaimed "Stephanie Daley" (which will screen at the fest next Friday). But at the fest, the 24-year-old will present her poetic side. (See schedule.)
She has two books published by Simon & Schuster: "Free Stallion" and "The Loneliest," a book of haikus with artwork by George Herms, inspired by the artistry of legendary jazz pianist Thelonious Monk.
Besides a females-only workshop on Sunday afternoon on surviving the trials of show business, Tamblyn will be showcased Saturday in a performance piece called "It's Hard to Face Your Problems ..."
"The title comes from a line in a poem that finishes '... when your problem is your face,'" she said by phone from Los Angeles early last week. "My piece will bring up issues about self-worth, especially in this industry I work in that can hit actors with a mean fist and make you feel worthless. I've encountered people here who feel threatened and scared that they can't fit into a popular 'type' that studios are looking for."
You wouldn't know it looking at Tamblyn's current resume of roles -- including her well-received turn as a teenager charged with murdering her newborn child in "Stephanie Daley" -- but "over the last couple of years, there's been a virtual drought of projects that I'd like to do," she said. "There was so much concentration on being the right body weight that I felt shut out of important parts that I wanted. If there wasn't another outlet for me like poetry, it would've been tough."
TAMBLYN'S TONE brightens when the subject changes to her mother. Bonnie Tamblyn will appear as her daughter's special guest during the Saturday performance, and will host a free workshop, "The Voice of the Circle," on conflict resolution and free expression, at 4:30 p.m. Monday at the ARTS at Marks Garage.
"My mom works with a lot of schools in L.A., to get kids to communicate with each other. ... Not only is she a schoolteacher, but she's a folksinger and a phenomenal guitarist," Tamblyn said. "We just started collaborating last year, and, curiously enough, the subjects of the songs she wrote 20 years ago bizarrely match what I express in my poetry."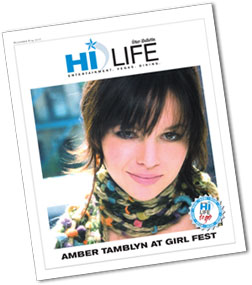 Among the pieces they'll do together is one that merges two of their individual works: "We combine this poem from my book 'When,' about my fear of losing my mother when she dies, with 'Hello Momma,' a song my mom wrote about the very same subject. It's a tearjerker."
Tamblyn has just finished filming the sequel to "The Sisterhood of the Traveling Pants," working with the star of NBC's "Ugly Betty."
"I was actually having lunch with America Ferrera when we both got e-mails on our phones at the same time asking us to do the sequel. ... I think audiences will find the new movie to be very interesting, as it deals a lot with that strange period for girls between the ages of 18 to 22, when you have no clue what do with your life, yet we're all becoming women.
"When it comes to acting, I go between method and not caring how I do it, so long as I'm sincere and empathetic to the role. Life itself is also a grand teacher that can help inform my characters."
Given the chance would she go back to serial television to revisit her character on "Joan of Arcadia"? "I admit I felt a little snubbed when 'Joan' was canceled, because it was one of those gemstone shows that touched people," Tamblyn said. "But had it gone longer, it probably couldn't have sustained the spiritual depth it had. So I figure it was divine intervention, and the show was meant to be what it was for that short period of time."