| | |
| --- | --- |
| | Newswatch |
---
RICE ROUNDUP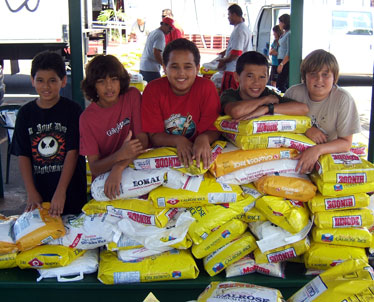 State under flash-flood watch
The National Weather Service has issued a flash-flood watch for the islands until late Tuesday night with heavy rainfall expected throughout the weekend.
Today, scattered showers are expected in the morning with the chance of thunderstorms in the afternoon. Winds are forecast to reach up to 15 mph.
For tonight until Tuesday, the skies should be mostly cloudy with a high chance of rain and possible thunderstorms on the Windward side and over the mountains.
Jury deadlocked in Lorenzo trial
The jury in the Patrick Lorenzo murder trial told state Circuit Judge Karl Sakamoto late yesterday they cannot reach a unanimous verdict on the second-degree murder charge.
Lorenzo's lawyer Walter Rodby said Sakamoto sent the jury home without letting them know whether he is going to ask them to continue deliberations or declare a mistrial on the charge.
Lorenzo is also facing attempted first-degree murder, attempted second-degree murder, robbery, kidnapping and multiple firearm violations in connection with the Feb. 10 shooting death of off-duty state Deputy Sheriff Daniel Brown-Sanchez and robbery of a Kapiolani Boulevard bar and lounge where Brown-Sanchez worked part time.
Lorenzo's trial started Oct. 15. The jury started its deliberations Oct. 26.
Mainland time falls back 1 hour
It will get easier tomorrow for island residents to reach mainland family, friends and business contacts as most of the continental United States goes off daylight-saving time.
It's back to a two-hour time difference for the West Coast and a five-hour time zone span for East Coast connections.
The change affects Hawaii residents who are trying to get through to a mainland business before closing time, watch the stock market or call Grandma before she goes to bed.
Residents of all states except Arizona and Hawaii change clocks to the "spring forward, fall back" formula. The extra hour of prime-time daylight is supposed to cut energy consumption.
The current system was adopted by Congress in 1966, but Hawaii opted out because, being nearer to the equator than any other state, day lengths do not vary much from winter to summer.
This year, daylight-saving time started three weeks earlier and was extended one week later than last year by act of Congress.
250-pound bomb found at Makua
Military officials closed the Makua Military Reservation yesterday after an Army contractor found a 250-pound, fused bomb below an interior access road, an Army news release said.
Only essential Department of Defense personnel are now allowed on site, and a cultural access to the reservation scheduled for Sunday has been canceled, the news release said.
Local, state and federal authorities, as well as community members, were notified of the ordnance.
A contractor found the bomb during a sweep to clear interior roads that began Monday and is scheduled to end Nov. 19. The range sweep is in accordance with a 2001 settlement to provide cultural access to the reservation.
An Army explosive ordnance disposal team was evaluating the bomb yesterday, whose specifications and age were still being determined.
Any decision to detonate or remove the bomb will be made in compliance with the Endangered Species Act, National Historic Preservation Act and other laws, the release said.
| | |
| --- | --- |
| | Police, Fire, Courts |
---
WEST OAHU
Schoolmates held in alleged mugging
Two boys were arrested Thursday after they allegedly stole money and items from another boy.
At about 4 p.m. a 13-year-old boy was returning home from a Kapolei area school when he was allegedly assaulted by two boys, ages 11 and 13, who attend the same school.
The suspects allegedly pushed the boy to the ground and stole items from him. The suspects were located nearby and arrested on suspicion of second-degree theft and third-degree assault.
Aiea man accused of sexual assault
An Aiea man was arrested on suspicion of first-degree sex assault Thursday after he allegedly performed oral sex twice on a boy he met posing as a young girl on MySpace.com.
As of last night, police said the suspect remains in custody but has not been charged.
According to a police affidavit filed in Honolulu District Court, the victim, then 14, received a "friend request" on MySpace.com from a girl named "Shayna" in September.
The boy took a nude photo of himself using his cell phone at "Shayna's" request. "Shayna" then threatened to post the nude photo to all his friends on MySpace.com.
"Shayna" told the victim that an older Asian male would pick him up and drive him to a friend's house that had a Web camera. A man introducing himself as "Lyle" picked up the boy and drove him to a home near Pearlridge where the suspect then allegedly performed oral sex on the boy.
A second incident allegedly occurred on Oct. 23 after "Shayna" once again threatened to post the nude photo if he did not meet the suspect to go shopping.
The next day, the boy's mother reported the assault to the police, who arrested the suspect at 11 a.m. Thursday at his home.
NEIGHBOR ISLANDS
Suspect in robbery at store is arrested
Big Island police arrested a 31-year-old Hawaiian Paradise Park man for allegedly robbing a Hilo jewelry story yesterday.
Police were called to a jewelry store on Kamehameha Avenue after the owner reported that a man choked her and stole her wedding ring, cell phone, camera and identification.
The victim briefly lost consciousness during the attack and was taken to Hilo Medical Center, where she was treated and released.
Police were able to identify the suspect from security cameras.
Prowler observed near Hilo home
Hawaii County police are asking for the public's help in identifying the person responsible for a burglary Thursday at the Sunrise Ridge Subdivision off Kukuau Street in Hilo.
The victim returned home and saw an unknown man standing on her property who fled into the bushes.
There was broken glass near the rear entrance to her home. Police arrived on scene and searched for the suspect but were unable to locate him.
Police are asking that anyone with information call Officer Louie Ondo at 961-2213 or the Police Department's nonemergency number at 935-3311. Tipsters who prefer to remain anonymous may call CrimeStoppers at 961-8300 in Hilo or 329-8181 in Kona.
Missing man needs medicine
Big Island police are asking for the public's help in locating a Puna man reported missing Thursday.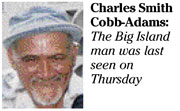 Charles Smith Cobb-Adams, 69, of Ainaloa has a condition that requires medication.
He is described as 5 feet 9 inches tall, 230 pounds, with brown eyes and gray or partially gray hair.
Cobb-Adams is known to frequent Keaau town. He drives a tan 1986 Toyota Tercel, license plate HGA 244. He was last seen at his home at 4 a.m. Thursday.
Police ask anyone with information on him to call the Police Department's nonemergency number at 935-3311.