| | |
| --- | --- |
| | Wood Craft |
---
Tagawa is in 'Heroes' again; Tia gives biting performance
Cary-Hiroyuki Tagawa
will appear in NBC's hit "Heroes" show again Monday, the second week in a row, portraying Mochi, the kidnapped sword-maker and father of Yaeko, played by
Eriko Tamura
.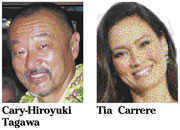 They appear with
Masi Oka
, who portrays Hiro Nakamura, the hero who has the gift of stopping time. He transported himself to the samurai period, where he meets Mochi and Yaeko. Tagawa spoke at Damien's pep rally Thursday. He obviously likes football, having been on the Damien sidelines for a game, cheering on star running back
Kama Bailey
... Hawaii's
Tia Carrere
was on FX's very R-rated "Nip/Tuck" Monday as a dominatrix. Her client could say she gave a biting performance. Tia's former Sacred Hearts teachers probably wish she had appeared on "Heroes" ...
"Please join Our Celebration of Life" read the invitation from psychologist Robert Spicer, who has packed a lot of living in his 88 years. He is still working and has won national and local awards for his work and longevity. He greeted guests to his Nuuanu view home with hanai daughter Jana Hall, who was the "official" photographer. She concentrated on her photo technique extra hard as pro photographer Ric Noyle attended. Developer Dick Gushman gave Robert a toast that brought smiles and laughter. Among others attending were early big wave surfer Fred Van Dyke and wife Joan, Clark Hatch, Bill Munson and Robert's doctor Joseph Grote, who takes no credit for fitness guru Robert's longevity ...
George Dyer to sing at Opera Ball
ACCOMPLISHED SINGER
George Dyer
, Romeo in the Hawaii Opera Theatre's production of "Romeo & Juliet" opening Feb. 29 at Blaisdell Concert Hall, will sing at the Opera Ball next Saturday at the Sheraton Waikiki. Isle singer
Kristin Stone
has the role of Juliet in the ball show. They will be accompanied by pianist
Beebe Freitas
. Dancers from Ballet Hawaii and fencers from Salle Hawaii will be part of the program. The ball is an Opera Theatre benefit. Call 596-7858 for tickets, priced at $350 each ... Professor
Terry Klafehn
sends word that the Japanese section of UH's Department of East Asian Languages and Literatures held its annual Nippon Culture Day Thursday at East-West Center. It coincided with Japan's Culture Day national holiday ...
Ben Wood
, who sold the Star-Bulletin in the streets of downtown Honolulu during World War II, writes of people, places and things in our Hawaii. E-mail him at
bwood@starbulletin.com