---
FAST FACTS HAWAII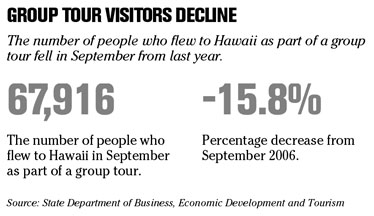 ---
HAWAII
HEI maintains dividend
Hawaiian Electric Industries Inc.
said yesterday it was maintaining its quarterly dividend at 31 cents a share, payable Dec. 11 to stockholders of record at the close of business on Nov. 15.
The ex-dividend date will be Nov. 13, meaning that will be the first day the stock will be traded without the shareholder being entitled to the upcoming payment.
The annual payout of the dividend is $1.24 a share, which equates to a yield of 5.8 percent -- the highest of any Hawaii-based company.
CPB holds dividend steady
Central Pacific Financial Corp.
, the parent of Central Pacific Bank, declared a quarterly dividend yesterday of 25 cents a share, the same as the previous quarter. It will be payable Dec. 21 to shareholders of record as of Nov. 16.
The annualized payout of the dividend is $1 a share, which equates to a yield of 4.9 percent.
HAWAII INC.
Board elections
» The Plumbing & Mechanical Contractors Association of Hawaii has announced its directors for the 2007-2009 term: Officers are
Clark "Skip" Morgan
, president;
Patrick Miura
, vice-president;
Kenneth Richardson
, secretary; and
Tyrus Kagawa
, treasurer. Directors are
Samuel Fujikawa
,
Robert Hann
,
Owen Muramatsu
,
Mark Suzuki
and
Glenn Tango
.
Gregg Serikaku
serves as executive director.
Awards
» The American Society of Interior Designers, Hawaii chapter, has awarded Philpotts & Associates interior designer Marion Philpotts-Miller the 2007 grand overall award and an award of excellence in commercial design for her work on the Aina Nalu condominiums in Lahaina. The following Philpotts & Associates design teams have also been awarded by ASID with the awards of merit: Anne Tanaka for the Beach Villas at Ko Olina condominium model, Lowell Tom and Jill Phanthavong for the Anekona Kukio residence, and Mary Philpotts for the Heidrich residence at Kukio.
NATION
Ford moves closer to contract
DETROIT » A marathon bargaining session between
Ford Motor Co.
and the United Auto Workers has brought both sides close to a tentative contract agreement, but a deal has yet to be reached, according to two people who have been briefed on the talks.
Both asked not to be identified because the negotiations are private.
Negotiators are weighing the UAW's demand for promises that new vehicles will be built at U.S. factories against the company's desire to further downsize its manufacturing capacity to match lower demand for its products, both people said.
Oil prices buoyed by fresh data
NEW YORK » The prospect of a stronger economy and word of possible new U.N. sanctions against Iran sent crude oil futures back above $96 a barrel briefly yesterday, while retail gasoline prices extended their own march higher.
The U.S. Labor Department reported that employers boosted payrolls by 166,000 jobs in October, double what economists had forecast, while the unemployment rate held steady at 4.7 percent and factory orders rose.
Light, sweet crude for December delivery rose $2.44 to settle at a record $95.93 a barrel on the New York Mercantile Exchange after rising as high as $96.05 earlier, short of a trading record of $96.24 set Thursday.
NYSE profit more than triples
NEW YORK » The operator of the New York Stock Exchange said yesterday its third-quarter profit more than tripled as market volatility over the summer produced record volume.
NYSE Euronext, the product of the New York Stock Exchange's April acquisition of European rival Euronext, saw earnings surge to $258 million, or 97 cents per share, for the quarter ended Sept. 30 from $68 million, or 43 cents per share, a year earlier.
Revenue jumped to $1.2 billion from $602 million a year ago, with 25 percent of total revenue generated by trading of derivatives, and 18 percent from European cash trading.
WORLD
British Airways net up 52 percent
LONDON»
British Airways PLC
, one of Europe's biggest carriers, posted a 52 percent increase in its profit for the first half yesterday, but lowered its full-year sales forecast because of continuing weakness in the U.S. dollar.
BA reported net income of 478 million pounds ($996.1 million) in the six months ended Sept. 30, compared with 315 million pounds a year ago.
Revenue slipped to 4.46 billion pounds ($9.27 billion) from 4.49 billion pounds a year earlier.
BRIEF CASE
Berkshire boost
Berkshire Hathaway Inc. reported a 64 percent jump in third-quarter profit yesterday on strong investment gains. Berkshire said it earned $4.55 billion, or $2,942 per share, during the quarter that ended Sept. 30. That's up from last year's third-quarter net income of $2.77 billion, or $1,797 a share.
---
BUSINESS PULSE