---
FAST FACTS HAWAII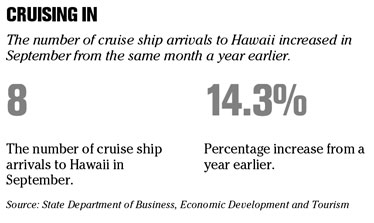 ---
BRIEF CASE
CHARGING UP
MasterCard Inc., the world's No. 2 credit card processor, said yesterday that increased cardholder spending, particularly overseas, boosted its profit by 63 percent in the third quarter. Revenue rose 20 percent to a record $1.08 billion. The results beat estimates.
CLOUDS OVER JAPAN
The Bank of Japan slashed its annual economic growth forecast by 0.3 percentage points to1.8 percent and held interest rates steady yesterday as uncertainty in the global economy continued to cloud Japan's outlook. "Downside risks to Japan are ... increasing," said bank Gov. Toshihiko Fukui.
CHANNEL SURFING
Federal regulators yesterday approved a rule that would ban exclusive agreements that cable television operators have with apartment buildings, opening up competition for other video providers that could eventually lead to lower prices.
RISING GAS PRICES
China raised gasoline and diesel prices today to curb demand amid shortages that have caused long lines at filling staions and disrupted trucking in key export areas. Today's 8 percent rise is meant to narrow the gap with soaring crude costs, according to the National Development and Reform Commission, the country's main planning agency.
---
BUSINESS PULSE