Hawaiian profit soars 152%
Third-quarter results were also helped by better-than-expected passenger yield
STORY SUMMARY »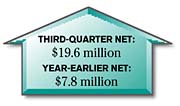 The parent of Hawaiian Airlines said yesterday its profits more than doubled in the third quarter on strong demand, despite high fuel prices and competition on its interisland and long-haul routes.
Hawaiian Holdings Inc. posted earnings of $19.6 million, or 41 cents a share, in the quarter compared with $7.8 million, or 16 cents a share, a year ago.
Revenue rose 17.5 percent to $272.5 million from $231.8 million.
However, rising fuel prices and low seasonal demand for trans-Pacific travel make for a "challenging" outlook, Hawaiian Airlines CEO Mark Dunkerley said.
---
FULL STORY »
Hawaiian Airlines' parent, overcoming competitive pressure on both its trans-Pacific and interisland routes, boosted its net income 152.3 percent in the third quarter as it benefited from strong demand and better-than-expected passenger yield.
The earnings announcement came just three hours before federal Bankruptcy Court Judge Robert Faris ruled that Mesa Air Group, which operates interisland carrier go!, must pay Hawaiian $80 million, plus 3.97 percent interest and attorney fees, for using confidential information to enter the Hawaii market with information obtained as a potential investor during Hawaiian's bankruptcy.
Hawaiian, the state's oldest carrier, posted earnings of $19.6 million, or 41 cents a share compared with $7.8 million, or 16 cents a share, a year ago. Hawaiian's earnings per share easily beat the 7 cents a share expected by Imperial Capital LLC analyst Nick Capuano.
Revenue rose 17.5 percent to $272.5 million from $231.8 million.
"We are pleased to see strong seasonal demand for Hawaii vacations, good cost control and some astute judgment by our revenue management department coincide in the third quarter to generate better results than a year ago," said Mark Dunkerley, president and chief executive of Hawaiian Holdings Inc.
Hawaiian's passenger yield, which measures revenue per passenger mile, dipped to 11.89 cents from 12 cents a year ago but beat the 11.16-cents midpoint of Hawaiian's third-quarter guidance.
Capuano was impressed that the airline easily blew past his earnings forecast.
"It appears to be a case of effectively managing their inventory and having prices firm a bit later on in the season as they had hoped," Capuano said. "They had good execution on their yield for the third quarter in a row in a difficult environment. They seem to be making the best of their situation given the unnatural competitive environment in the inter- island market."
Dunkerley said Hawaiian has now entered a period of easy year-over-year comparisons since the weakness first started hitting Hawaiian at the end of last year's third quarter.
"However, we would caution that rising fuel prices, continued irrationality in the interisland markets, low seasonal demand for trans-Pacific travel, and excess trans-Pac capacity all contribute to an outlook which, while better than it was just a few months ago, nonetheless remains challenging," he said.
Fuel costs continued to climb -- rising 18 percent to $76.8 million -- accounting for more than 31 percent of Hawaiian's operating expenses, which increased 12.7 percent to $247 million.
Hawaiian's cash and equivalents increased to $215.3 million from $201.9 million at the end of the second quarter, but less than the $233.5 million reported at the end of third-quarter 2006.
Dunkerley said Hawaiian's results continued to reflect the continued deep level of discounting initiated by Mesa as it continues to try and establish a position in the market.
"It's been almost 17 months since Mesa entered the market, so this quarter reflects the first period of year-over year comparison," Dunkerley said. "With this in mind, it is revealing that we posted a 3.5 percent year-over year improvement in interisland (revenue per available seat mile) despite a level of fare discounting that was more severe than what we experienced last year."