---
ILORI's sunglasses for status seekers
As luxury becomes more commonplace, accessories have become the new barometer, a moving target, of status. After all, anyone can own one designer handbag, but can they afford to keep up from season to season?
For those who want to try, ILORI, the first luxury specialty store dedicated to sunglasses, will open at Ala Moana Center tomorrow, offering limited-edition sunglasses and products usually available only in international markets. Brands to be carried include Beausoleil, Bvlgari, Chanel, Derek Lam, John Varvatos, Lanvin, Persol, Prada and Tiffany.
ILORI means "special treasure," and the company is also renowned for excellence in customer service.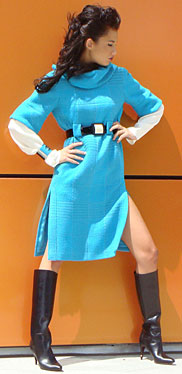 Mag devoted to luxe life
For those with a taste for the good life, the October-November issue of HI Luxury is out and available on the magazine racks at Barnes & Noble, Times Supermarket and Fujioka's.
The magazine is published by Oahu Publications, parent company of the Star-Bulletin, and features a fashion spread on fall dressing, including this ensemble from Chanel, modeled by Rain Maiava, left, at the Honolulu Design Center. Take a look!