---
FAST FACTS HAWAII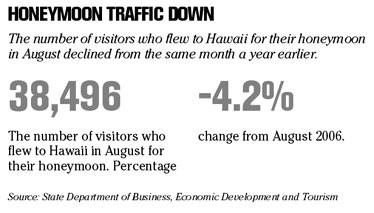 ---
HAWAII
Bankoh warns of 'phishing' fraud
Bank of Hawaii
is warning its customers not to respond to a fraudulent email message that attempts trick recipients into revealing account information.
The latest email, circulated yesterday, asks people to fill out an online survey in order to receive a $100 reward. Participants are asked to give an account number, password and Social Security number.
Such messages, known as "phishing" attacks, are sent out indiscriminately in hopes of netting a few customers who will unwittingly give up their account information, allowing unauthorized withdrawals and putting them at risk of identity theft.
The bank never requests personal I.D. information from its customers via e-mail. Anyone who mistakenly provided personal information should immediately contact Bank of Hawaii at: 1-888-643-3888.
Convention center wooing Asia
Officials from SMG Hawaii, the manager of the Hawaii Convention Center, will be attempting to win Asian meetings and conventions bookings when they pitch travel professionals in Thailand next week.
Hawaii officials will attend the 46th Annual International Congress and Convention Association (ICCA) Congress & Exhibition and the ICCA General Assembly in Pattaya, Thailand.
This will be the first time that Hawaii is represented at this international event, which caters to some 800 members in 80 countries worldwide.
NATION
Bank of America to cut 3,000 jobs
CHARLOTTE, N.C. »
Bank of America Corp.
said yesterday it will eliminate 3,000 jobs, an announcement that came less than a week after the nation's second-largest bank reported a huge drop in earnings for the third quarter.
The cuts will affect less than 2 percent of the company's staff. Most will be from its Global Corporate and Investment Banking unit, the company said.
The Charlotte-based bank also said yesterday that it is launching a review of its investment banking business.
brief case
FACEBOOK STAKE
Rapidly rising Internet star Facebook Inc. has sold a 1.6 percent stake to Microsoft Corp. for $240 million, spurning a competing offer from online search leader Google Inc.
MORE DELIVERIES
Boeing Co., the world's No. 2 commercial airplane maker, said yesterday that it posted its best profit in nearly four years as its third-quarter earnings climbed 61 percent because of higher commercial airplane deliveries and growth in its defense business.
Star-Bulletin staff and news services
HAWAII INC.
NEW HIRES / PROMOTIONS
» The USS Missouri Memorial Association has hired
Eve Colton In
as corporate membership and member events manager in its development department. She previously served as an account executive at HonBlue and has 13 years experience in advertising, marketing and print sales.
» Hawaiian Host has hired Mark Yamada as controller and director of finance. He will be responsible for planning and reporting, and oversee all financial aspects of the company's business and growth plans. He previously served as director of finance and administration for Gemini Mobile Technologies and as managing director of Vodafone Group PLC's finance group.
» Hyatt Regency Waikiki Resort & Spa has hired Peter Brenner as group sales manager. He will be responsible for new and current clients in North America. He previously served as a director of sales and marketing for Ardent Hotels and Sunstone Hotels in New Mexico and has also worked in television broadcast journalism.
» Outrigger Enterprises Group has named Mahealani Jimenez as senior sales manager. She will oversee both FIT and group sales for the Outrigger Waikiki and Outrigger Reef of the Beach. She previously served at Kimpton Hotels in San Francisco for 11 years.
» Hawaiian Electric Co. has named Susan Li as vice president of general counsel. She replaces Jackie Mahi Erickson, who has retired. Li will oversee the company's general counsel operations, including the legal department and rights-of-way division. She previously served as manager of the company's legal department for more than 17 years and has also served as a litigation associate for several New York law firms including Jones Hirsch Connors & Bull, Reboul MacMurray Hewitt Maynard & Kristol and Rosenman & Colin.
» Meadow Gold Dairies of Hawaii has named Jill Chiang as sales and distribution manager. She previously served as director of operations for Pacific Health and as customer business manager for Kimberly-Clark Corporation. She has more than 20 years of experience in consumer goods sales management.
» Shriners Hospitals for Children Honolulu has named Stan Berry as administrator. He will oversee all hospital operations and lead the $73 million capital campaign for the new hospital's construction. He previously served as chief executive officer of the North Hawaii Community Hospital and has 28 years of experience of healthcare senior management experience in Hawaii and on the mainland.
» First Hawaiian Bank has announced the following new hires and promotions: Naomi K. Masuno has been hired as vice president of small business banking at the Pearlridge branch. She has extensive experience in business banking. Jeremy H. Ancheta has been hired as a personal banking officer. He previously served as a loan officer for New Century Mortgage and has more than 10 years of banking and lending experience. Roderick J. Peroff has been promoted to business lending officer at the Western Center Dealer division from business banker at the Kahului branch. He joined the bank in 2004 as a management trainee and has extensive experience in commercial banking and lending. Julie K. Nihei has been promoted to investment officer from investment specialist. She joined the bank in 2006 and has more than seven years of financial management experience. Relly Tungpalan has been promoted to business services support officer from supervisor. She joined the bank in 1989 and has served several positions in the bank including senior clerk, customer service and accountant.
---
BUSINESS PULSE