Fire, water damage UH science building
STORY SUMMARY »
Classes are canceled at Edmondson Hall on the UH-Manoa campus today because of extensive water damage caused by a pipe that burst during a fire.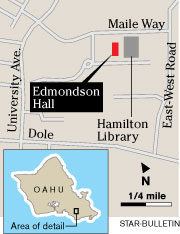 The fire, believed to be electrical in origin, started at about 5 p.m. Saturday in a third-floor office, according to a UH official. Heat from the fire melted a half-inch copper water pipe. The water put out the fire, but hundreds of gallons poured into the lower floors of the building, causing ten of thousands of dollars in damage until a maintenance worker arrived at about 8 a.m. yesterday, officials said.
Edmondson Hall, next to Hamilton Library, houses the Zoology and Biology departments, offices, labs, classrooms and lecture halls.
Zoology Department officials say they have been complaining for years that the building needs upgrades.
STAR-BULLETIN
---
FULL STORY »
Water from a broken pipe caused ten of thousands of dollars in damage to classrooms, offices and labs at the University of Hawaii Zoology Department, forcing officials to cancel classes in Edmondson Hall today and possibly longer.
A fire, believed to be electrical in origin, in a third-floor office is what caused the pipe to burst, officials said.
The fire apparently started at about 5 p.m. Saturday, according to UH-Manoa spokesman Gregg Takayama.
Water from the broken pipe put out the fire but flowed unnoticed to the lower floors until a maintenance worker opened the building at about 8 a.m. yesterday, Takayama said.
The building, which was built in 1962, has no sprinkler system and has fire alarms installed only in the hallways.
"If a proper fire system were in place, what would have been different is that a fire alarm would have gone off, and we would have had less water damage," said Steven Robinow, associate chairman of UH's Zoology Department.
"We have had a lot of little floods in this building," said Robinow, "but nothing close compares to this amount of damage."
University officials canceled classes in Edmondson Hall for at least today, but that could be extended as crews from the firm Hawaii Restorative clean up the mess and put in dehumidifying machines to prevent mold.
Edmondson Hall holds biology and zoology classes as well as two general lecture halls for the university.
The water also damaged five or six faculty offices. Ceiling tiles in the office of Andy Taylor, a zoology professor, crumbled to the ground from the water damage.
"When I heard there was another flood, I thought, 'Not again,'" Taylor said as he moved several books from his first-floor office. "Compared to some other folks, it's a mess but not any long-term damages."
Nearly three years ago Hamilton Library and other UH buildings sustained millions of dollars in damage when Manoa Stream overflowed its banks and sent floodwaters into neighborhoods and the UH-Manoa campus. The floodwaters deposited several inches of sludge into the first floor of Edmondson Hall.
The Zoology Department will assess the damage from this weekend's flood. Robinow says the department cannot absorb the damage cost with an annual operating budget of $60,000.
Robinow said the Zoology Department has long been calling for additional funding to repair the dilapidated building, where termites have munched through the weakened wood.
"It's time to replace the buildings," Robinow said. "We need to teach students in a moderately good environment. These facilities are an embarrassment."