---
FAST FACTS HAWAII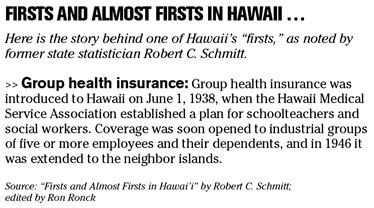 ---
NATION
Sexism at home 'just happened'
It's often said that money is power. When it comes to love, however, cash doesn't necessarily equal control.
A five-year study of dual-income households in the United States, Spain and Sweden has found that couples often defer to traditional gender roles rather than negotiate breadwinning and domestic duties. Women who work outside the home still do most of the laundry, cooking and other chores at home -- an arrangement that's challenged often only when a crisis arises, such as marriage counseling or bankruptcy, researchers discovered.
When the couples were asked how they reached their arrangements, researchers were greeted with blanks looks and explanations that "it just happened that way," said study co-author Janet Stocks, a sociology professor at Baldwin-Wallace College in Berea, Ohio.
Even when women earn more, they fear emasculating their mates and overcompensate by doing more work at home, she said.
Women are much more conscious than men of the independence money offers, researchers found.
"We never heard men talking about independence," Stocks said. "There was never a case when men tied money to independence."
The research is the basis for the book "Modern Couples Sharing Money, Sharing Life," co-authored by Stocks, Capitolina Diaz of the University of Oviedo in Spain and Bjorn Hallerod of Umea University in Sweden.
Having a baby costs almost $8K
The cost of having a baby in the U.S., from the first prenatal doctor's visit to delivery at the hospital, averages about $7,600, according to the first government estimate on childbirth expenses.
The total, calculated in 2004 dollars, also includes prescription drugs and other services, the Agency for Healthcare Research and Quality said last week. The Rockville, Md., agency is part of the U.S. Department of Health and Human Services.
Pregnant women with private insurance plans paid about 8 percent of the total expenses out of pocket on average, or about $660 for a woman with an "average level of expenses," according to the agency. Women on Medicaid, the U.S. insurance program for the poor, paid about 1 percent of the cost.
Rich worry about kids, succession
What keeps the richest among us awake at night? According to a new survey, more than just whether to buy that second Bentley.
About half of wealthy business owners fret that their success has spoiled their children, and only 26 percent expect the next generation to join the family business, according to a survey by SunTrust Bank Private Wealth Management.
Hand-wringing among the well-to-do also includes the fate of their fortunes. Protecting and building wealth were cited as top concerns, as was transitioning wealth to the next generation.
Even if their worries are well-founded, 57 percent of business owners are confident that their skills are easily transferable and they would land on their feet.
The nonscientific online survey included more than 200 owners of businesses with at least $10 million in annual revenue.
'Hands-on' learning more popular
Colleges and universities across the nation are increasingly offering programs in entrepreneurship, and the cream of the crop increasingly are including hands-on experience, according to recent rankings by Entrepreneur magazine and The Princeton Review.
Along with academics, the ranking criteria included hands-on work outside the classroom, access to entrepreneurial experts such as faculty and alumni, and relationships with the local business community, said Robert Franek of The Princeton Review.
"We're seeing a general shift toward experiential learning," he said.
Topping the list for undergraduate schools was Babson College in Massachusetts, followed by the University of Houston, Philadelphia's Drexel University, the University of Arizona, and the University of Dayton in Ohio. The University of Southern California offered the No. 1 graduate program, with Babson College, the University of Arizona, the University of North Carolina-Chapel Hill, and DePaul University in Chicago rounding out the top five.
A total of 50 schools out of 900 surveyed made the final list.
---
BUSINESS PULSE